Uncategorized
Trending
WB Assembly : Violence marred 4th phase polling -4 dead in CoochBehar; polling 76.16 %
ECI adjourns polling in PS 126 of 5-Sitalkuchi (SC) AC, CoochBehar
WB Assembly: Violence marred 4th phase polling -4 dead in CoochBehar; polling 76.16 %
Polling was conducted in15,940 Polling Stations spread across 44 Assembly Constituencies today, in the fourth phase of elections in the state of West Bengal. However, based on the report received from Special Observers on the reported incident of violence at one PS No. 126 under 5- Sitalkutchi(SC) Assembly Constituency, Cooch Behar, ECI has adjourned the Poll. A detailed report is awaited.
In a sudden eruption of violence, At least 4 persons died in firing by central forces when they came under attack in Sitalkuchi, Coochbehar. A young 18-yr-old has died too. TMC claims 5 of its workers have died. initial reports say TMC and BJP workers clashed and it followed the violence and firing took place.
All India Trinamool Congress
@AITCofficial :
@BJP4India
বাংলার নির্বাচনের আসন্ন ফলাফলে ভরাডুবির হাত থেকে নিজেদের মুখ বাঁচানোর জন্য মরিয়া! খুব স্পষ্টতই তৃণমূল কংগ্রেসের ওপর অরাজকতার দায় চাপানোর জন্য 
@me_locket
নিজেদের গাড়িতে আঘাত করছেন, গাড়ির ভেতর থেকে কাঁচ ভেঙেছেন । উনি ভালো অভিনেত্রী আমরা শুনেছিলাম, আজ আবার দেখলাম।
Translated from Bangla by
.
Desperate to save their face from the collapse of the upcoming election results in Bengal! To put the blame for anarchy on the Trinamool Congress very clearly
@me_locket
Hitting their own car, breaking the glass from inside the car. She is a good actress we heard, saw again today. Quote Tweet
https://twitter.com/i/status/1380758247502569472
https://twitter.com/i/status/1380758247502569472
MLA ASIT MAZUMDER
@ASITMAZUMDER1·
লকেট চ্যাটার্জি হেরে যাওয়ার ভয় নিজেরই দলের লোকেদের দিয়ে নিজের এবং সংবাদকর্মীদের গাড়ি ভাঙচুর করালেন।
In all, 373 candidates including 50 women were on the fray for the 44 Assembly seats spread over five districts during the Fourth Phase. The state is witnessing eight-phase elections. Over 1.15 crore voters including 56.94 lakh women and 293 Third Gender persons will decide the fate of these candidates. More than 12,310 Polling Stations have been set up for this purpose.
Bharatiya Janata Party and ruling AITC are contesting for all the 44 seats while Congress, Left parties and their alliance partner Indian Secular Front are fighting under the banner of Sanyukta Morcha. CPI (M) has fielded 22 candidates, BSP has 13, Congress – nine, AIFB – six, ISF – four, RSP- two, and CPI- one.
For the Fifth Phase of State Assembly Elections in West Bengal, the high-pitch electioneering campaign is gaining momentum. The campaigning is also on for the simultaneous By-Elections of two Lok Sabha seats including Tirupati in Andhra Pradesh and Belgaum in Karnataka along with 14 Assembly Constituencies in eleven states.
Details of Electors, Polling Stations & Observers in the poll are as follows:
Table 1: Factsheet for West Bengal
State
Phase 1
Phase 2
Phase 3
Phase 4
Total upto Phase 4
Assembly Constituencies
30
30
31
44
135
No of Polling Stations
10,288
10,620
10,871
15,940
47,719
Registered Electors
73,80,942
75,94,549
78,52,425
1,15,81,022
3,44,08,938
Total number of contesting candidates
191
171
205
373
940
No of General observers deployed
20
23
22
35
100
No of Police observers deployed
7
6
9
9
31
No of Expenditure observers deployed
9
9
7
10
35
% of voting till      5 PM
84.63

(Final VTR)

86.11

(Final VTR)

84.61

(Final VTR)

76.16%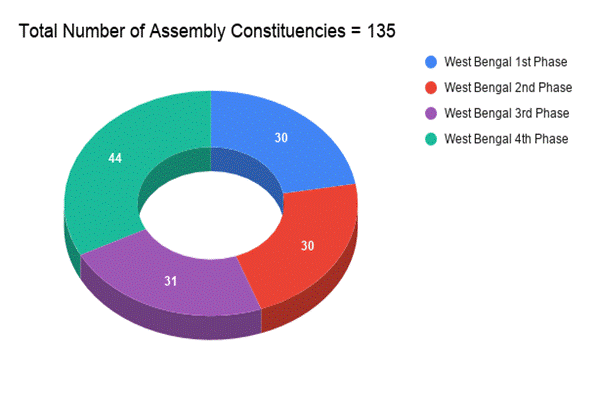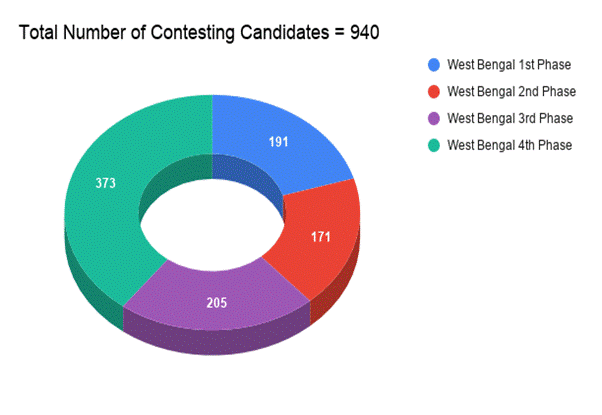 .
Please click the link below & support our initiative newsabode.com
https://www.patreon.com/neerajbajpai
(NOTE: We seek your support—At a time when the news is under threat, we have opted for a different approach with hopes of your support. The purpose of launching newsabode.com is primarily aimed at ensuring the survival of true independent Journalism. We bring news to you from across the world. To support truly independent journalism, please consider making a contribution to newsabode.com or taking a subscription)
We provide a link to another option to back up the initiative —https://mail.google.com/mail/u/