National
Trending
Unnao Double Murder case of Dalit Girls cracked;Investigations still underway:Police
Police:Two arrested; Victims " poisioned to death"; 2 died, third battling for life in Kanpur
Unnao Double Murder case of Dalit Girls cracked; Investigations still underway: Police
In a fast development in the mysterious death of two Dalit girls in Unnao district of Uttar Pradesh two days ago, Police have arrested two men in connection with the case,and one of the accused, police says, has confessed that he had laced their drinking water with poison as one of them had spurned his advances.
Informatively, The two girls were found dead under mysterious circumstances.A third girl was found in a critical condition nearby and is currently undergoing medical treatment at Regency hospital in Kanpur. The case had whipped up rage in the area and several poliriocal parties hads demandede a detailed probe vinto the case.
The Chief Minister had sought the report and had announced  free treatment of the surviving victim.
Four people were detained on Thursday in connection with the case, two of whom have now been arrested. Police said one of the two arrested men poisoned the girls.
Addressing a press conference on Friday, Lucknow Inspector General of Police (IG) Laxmi Singh said investigators have received information that the girls were seen running on the day of the incident.
Unnao Police has posted a detailed note on the site in Hindi( attached)

UNNAO POLICE
@unnaopolice:सनसनीखेज व चुनौतीपूर्ण दोहरे हत्याकाण्ड को अंजाम देने वाले अभियुक्तगणों को पुलिस ने किया गिरफ्तार.
थाना असोहा क्षेत्र से संबन्धित घटना का सफल अनावरण करते हुये दो अभियुक्तों को गिरफ्तार किया गया ।
Police arrested the accused who carried out the sensational and challenging double murder
Two accused were arrested while successfully unveiling the incident related to Police Station Asoha area.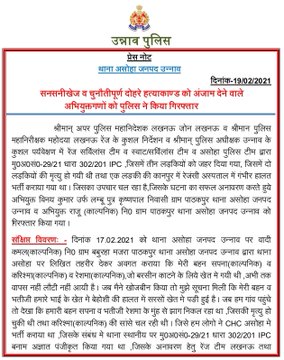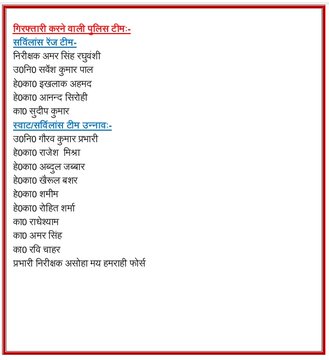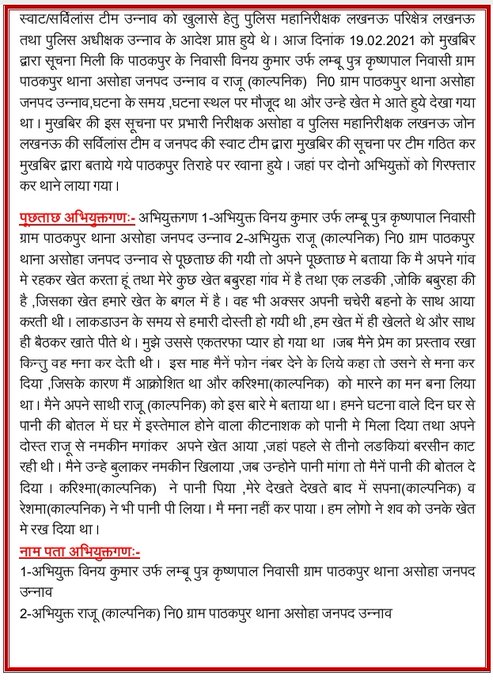 Please click the link below & support our initiative newsabode.com
https://www.patreon.com/neerajbajpai
(NOTE: We seek your support—At a time when the news is under threat, we have opted for a different approach with hopes of your support. The purpose of launching newsabode.com is primarily aimed at ensuring the survival of true independent Journalism. We bring news to you from across the world. To support truly independent journalism, please consider making a contribution to newsabode.com or taking a subscription)
We provide a link to another option to back up the initiative —https://mail.google.com/mail/u/