Politics
Rajnikanth drops plan to enter politics;offers public apology for not keeping words
Rajnikanth drops plan to enter politics; offers public apology for not keeping words
Putting paid speculations that he will herald a new era of politics in the new year, Tamil superstar Rajnikanth has dropped his plans for the political initiative, citing health reasons. He has extended his apology to the public for not keeping up his word on party formation.
"I regret to inform you that I am not going to launch a  political party. I will serve people in whatever ways I can without entering electoral politics,…
He has posted a detailed note on his decision on the Twitter handle in the Tamil Language. Media has reported his decision in a big way as his decision to join politics. His political plans had triggered many speculations as the state assembly polls are round the corner in the new year.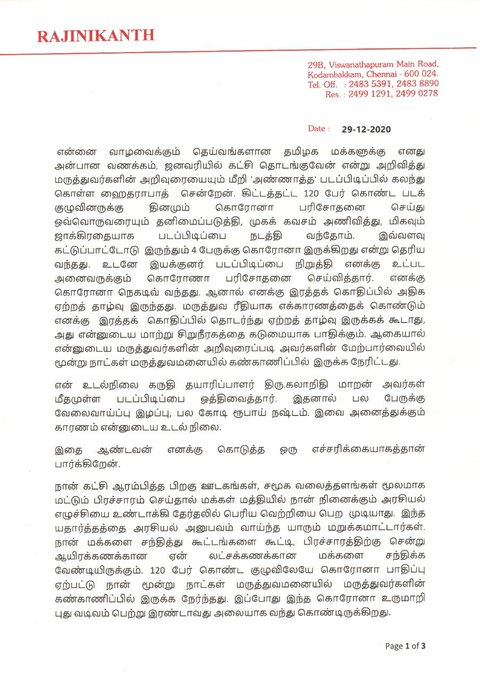 @rajinikanth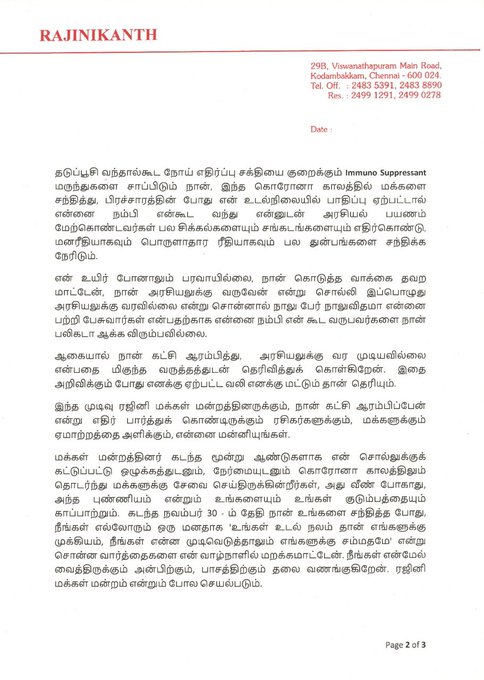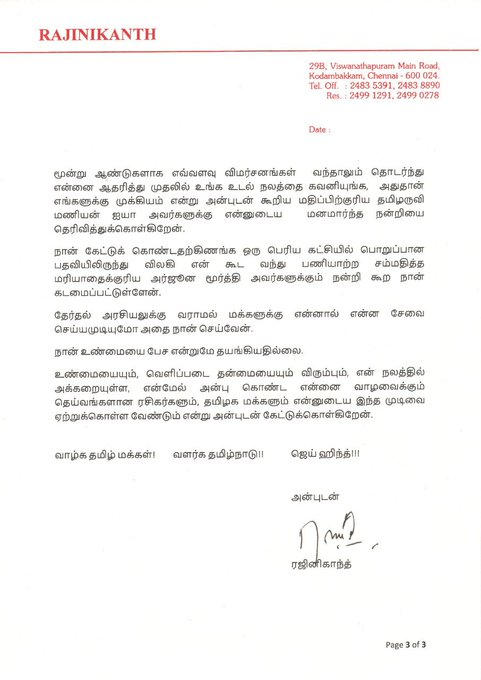 Films' Megastar Rajinikanth who was admitted to a  hospital on Christmas day in Hyderabad after severe fluctuation in the blood pressure, had been discharged on Sunday with a slew of precautions advisory.
His health conditions have stabilized and he is feeling " much better", Doctors said.
He had been admitted with "severe" BP fluctuations and his BP remained on the higher side even on the second day. He has been discharged today after improvement in the health condition.
A statement by the hospital had said in view of his post-transplant status, labile hypertension, and age, he has been advised complete bed rest, for a week and regular monitoring of BP besides minimal physical activity. He has also been asked to avoid any activity that increases the risk of contraction CoVID-19.
The actor who had tested negative for Covid-19 on December 22 is under isolation after some crew members of the film he was shooting for (Anantha) in Hyderabad tested positive for the coronavirus. The hospital said he was hemodynamically stable and had no other symptoms.
Rajnikanth drops plan/Rajnikanth drops plan/Rajnikanth drops plan/Rajnikanth drops plan
END
Please click the link below & support our initiative http://newsabode.com
https://www.patreon.com/neerajbajpai
(NOTE: We seek your support—At a time when the news is under threat, we have opted for a different approach with hopes of your support. The purpose of launching newsabode.com is primarily aimed at ensuring the survival of true and unbiased journalism, based on facts and figures with total independence.)