Politics
Trending
Polling underway in TN, Kerala, WB,Assam & Puducherry; Strict Pandemic Protocols clamped
Polling underway in TN, Kerala, WB,Assam & Puducherry
Voting has begun for assembly elections in Tamil Nadu, Kerala, and Puducherry. Polling s also underway for the third phase of assembly elections in Assam and West Bengal. Polling is being held in all the states with strict security arrangements and COVId-19 protocols.
The voting began at 7 this morning in all poll-bound states. Voting will continue till 6 PM in Assam, 6.30 PM in West Bengal, and till 7 PM in Tamil Nadu, Kerala, and Puducherry.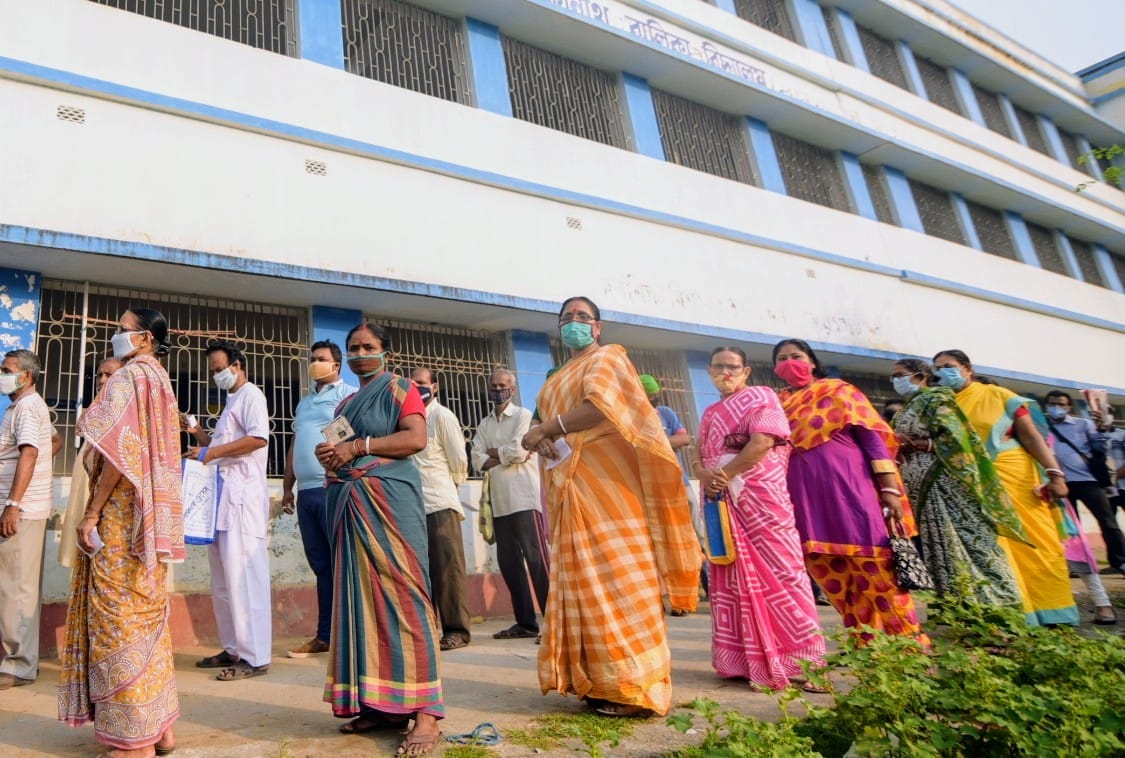 In West Bengal, 205 candidates including 13 women are in the fray for 31 seats in three districts during this phase. Over 78.52 lakh voters including 38.59 lakh women and 246 Third Gender persons will decide the fate of these candidates. Bharatiya Janata Party and ruling AITC are contesting for all the 31 seats while Congress, Left parties and their alliance partner Indian Secular Front are fighting under the banner of Sanyukt Morcha. CPI (M) and BSP have fielded 13 candidates each, ISF has eight, Congress has seven, AIFB two and RSP one while there are 68 independents along with 32 others are also in the fray.
In Assam, voting is taking place for 40 seats in the third and final phase. Over 79 lakh voters will decide the political fate of 337 candidates including 25 women. Several high profiles candidates are on the fray in this phase including State BJP President Ranjeet Kumar Dass, ministers Himanta Biswa Sarma, Siddhartha Bhattacharya and Chandra Mohan Patowary, BPF leaders Pramila Rani Brahma and Chandan Brahma.
While single-phase polling is being held in Tamil Nadu, Kerala, and Puducherry, its third and final phase in Assam today.
Polling is also underway for by-polls to Kanniyakumari Lok Sabha seat in Tamil Nadu and Malappuram Parliamentary constituency in Kerala.
In Puducherry, 324 candidates including 35 women are vying for 30 seats. Over 10.04 lakh voters including 5.31 lakh women and 116 Third Gender persons will decide the fate of these candidates. Total 1,559 Polling Stations have been set up for this purpose. Naam Tamilar Katchi has fielded 28 candidates and DMDK has 26, AMMK-25, MNM-22, DMK-13 Congress-14 while NR Congress has given tickets to 16, BSP-11, and BJP has put up nine candidates in the fray.
In Kerala, the polling for the assembly election began at 7 this morning. AIR correspondent reports, voting in all the 140 constituencies began today at 7 am and will continue till 7 in the evening in 131 constituencies and will end at 6 pm in the 9 Naxal affected constituencies. Over 2.74 crore voters will cast their votes in 40,771 polling booths across the State.
There are over 5 lakh first-time voters this time. 957 candidates are contesting the assembly polls and 6 candidates in the Loksabha bypoll. The main contest is between the CPM-led LDF, Congress-led UDF, and BJP led NDA.
END
Please click the link below & support our initiative newsabode.com
https://www.patreon.com/neerajbajpai
(NOTE: We seek your support—At a time when the news is under threat, we have opted for a different approach with hopes of your support. The purpose of launching newsabode.com is primarily aimed at ensuring the survival of true independent Journalism. We bring news to you from across the world. To support truly independent journalism, please consider making a contribution to newsabode.com or taking a subscription)
We provide a link to another option to back up the initiative —https://mail.google.com/mail/u/