PM Narendra Modi & UP CM Yogi Adityanath meet; Yogi's Delhi meetings set off speculations
New Delhi, June 11:Uttar Pradesh Chief Minister Yogi Adityanath today met Prime Minister Narendra Modi and BJP President JP Nadda in separate back to back meetings amid ever swirling speculations over strained relationship between the state CM and party high command over a host of issues.
Details of his about an hour meeting with Mr Modi are not known, but The CM said it was a courtesy call to seek guidance from the Prime Minister. 
Yesterday, He had met union Home Minister Amit Shah at his residence in New Delhi on Thursday and is understood to have discussed a slew of issues including the Coronavirus pandemic situation in the state.
Adityanath's visit had come two days after Jitin Prasada, a former Congress leader who comes from a well-known Brahmin family of Uttar Pradesh, left the party and joined the BJP.
Yogi Adityanath

@myogiadityanath:आज आदरणीय प्रधानमंत्री श्री @narendramodi

जी से नई दिल्ली में शिष्टाचार भेंट एवं मार्गदर्शन प्राप्ति का सौभाग्य प्राप्त हुआ। अपनी व्यस्ततम दिनचर्या से भेंट के लिए समय प्रदान करने व आत्मीय मार्गदर्शन करने हेतु आदरणीय प्रधानमंत्री जी का हृदयतल से आभार।
Today Respected Prime Minister Mr.@narendramodi
I had the privilege of receiving a courtesy visit and guidance from Ji in New Delhi. Heartfelt gratitude to the respected Prime Minister for providing time and kind guidance to meet your busy routine.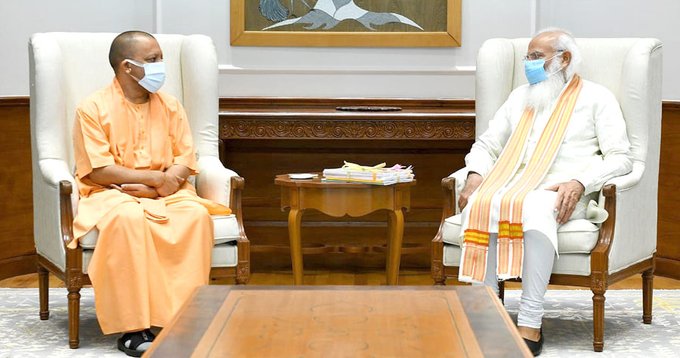 Yogi Adityanath@myogiadityanathआज आदरणीय राष्ट्रीय अध्यक्ष श्री @JPNadda
जी से नई दिल्ली में शिष्टाचार भेंट कर विभिन्न विषयों पर उनका मार्गदर्शन प्राप्त किया। अपनी व्यस्त दिनचर्या से मुझे समय प्रदान करने के लिए आदरणीय अध्यक्ष जी का कोटिशः आभार।
Today Respected National President Mr JPNadda
Received his guidance on various subjects by visiting ji in a courtesy call in New Delhi. Thanks to respected president Ji for giving me time from my busy routine.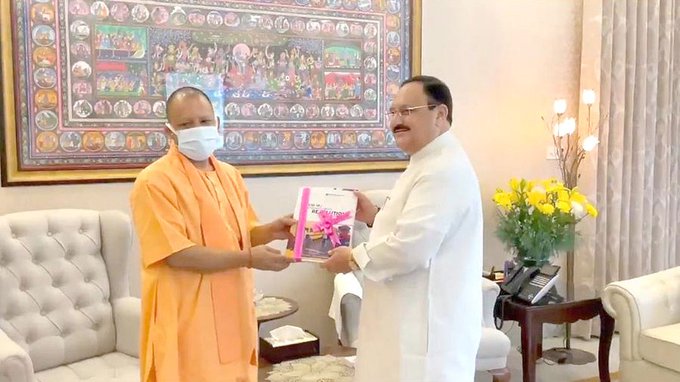 Mr Yogi was on a two-day visit to the national capital. Yesterday, He had later tweeted a picture of the meeting and described his meeting as a  courtesy call. Mr Amit Shah also tweeted the meeting picture.
xxxxxx
In a special article on the UP Situation, Senior Journalist Devsagar Singh wrote
UP Chief Minister Yogi Adityanath's parochial politics, coupled with his abrasive personal behaviour, has touched off a serious power tussle within the BJP  involving the highest in the saffron fold, according to people who profess to know the development.
          After Yogi reportedly ignored the changes suggested in his government by higher authorities in Delhi, he is currently in Delhi to explain his position. The outcome of his meetings with Home Minister Amit Shah, party president J.P.Nadda and finally the Prime Minister is being eagerly watched.  That Yogi   held on to his position thus far resisting the central diktat speaks volumes for his strength. Any other CM would have yielded without much ado.
       What has exacerbated tension is the upcoming assembly elections in the state early next year in which the BJP has the highest stake. In many ways, the results in these elections would be a pointer to what is in store for the party in the national elections in 2024.
        Yogi's continuance in office is being seen as a liability by many in the party who are his known detractors. But the CM  has fortified himself with hardcore supporters who can go to any length to protect their leader. In this situation, will the central leadership be able to disturb the applecart?
             It is well known by now how Yogi held the party and the Prime Minister to ransom when the decision was being made to select the new Chief Minister after a landslide victory in 2017 elections. The first choice, present J and K Governor Manoj Sinha was pipped to post by Yogi who reportedly threatened to walk away with his MLAs if he was not made CM. Knowledgeable sources maintain that the top RSS leaders from Nagpur then supported Yogi as CM of the largest state.
             It is believed removing Yogi is out of the question at this stage despite serious differences. This is because such a move will send wrong signals. The party needs to present a  united face on the eve of the most important of state elections next year. Some partymen  are credited with the view that Yogi is exploiting this situation to remain in power.
            The central leadership seems to be also in dilemma on another count —Yogi being an icon of Hindutva, a major plank that catapulted BJP to power at the Centre and many states.  It will continue to be one of the major planks in the coming elections as well.
           It does not mean, however, that Yogi can continue to defy his senior leaders in the party. Obviously, adjustments will have to be made to accommodate new faces in the UP Cabinet.  A former IAS officer Mr. Sharma, now in the UP legislative council, is being tipped to become Deputy Chief Minister, for example.  Changes in the party setup are also likely. Emphasis will now be on measures that would fetch votes. Jitin Prasada's entry into BJP leaving  Congress is being watched with interest. But will he be able to bring Brahmin votes to BJP? Senior Congress leader and former CWC member Harikesh Bahadur has serious doubts.
END
Please click  the link below & support our initiative newsabode.com
https://www.patreon.com/neerajbajpai
(NOTE: We seek your support—At a time when the news is under threat, we have opted for a different approach with hopes of your support. The purpose of launching newsabode.com is primarily aimed at ensuring the survival of true independent Journalism. We bring news to you from across the world. To support truly independent journalism, please consider making a contribution to newsabode.com or taking a subscription)
We provide a link to another option to back up the initiative —https://mail.google.com/mail/u/