International
Trending
Myanmar: Shoe strike to pay homage to those killed during crackdowns;598 died so far: AAPP
Myanmar: Shoe strike to pay homage to those died during crackdowns;598 killed so far: AAPP
Another day, another strike is the sweeping trend in the blood-stained Myanmar where more than 598 people had been gunned down to the death during brutal crackdowns on the pro-democracy protestors since the Military usurped power on Feb 1.
Yesterday it was -" Take if u need, Donate/Apparently unfazed by brutal crackdowns, Many hawkers have hit the streets of Yangon with loads of vegetables and eatables with a screaming message- 

"Take if u need, Donate if u have extras".
UK foreign secretary

Dominic Raab

@DominicRaabUnited Kingdom government official:
We condemn the bullying actions of the Myanmar military regime in London yesterday, and I pay tribute to Kyaw Zwar Minn for his courage. The UK continues to call for an end to the coup and the appalling violence, and swift restoration of democracy.
10:59 AM · Apr 8, 2021
Twitter for Android
After criticizing his country's military coup, Myanmar's ambassador to London was stranded outside his embassy on Wednesday. Someone seems to have changed the locks.
The issue is snowballing into a major diplomatic row as social media is full of video clips and pictures of the ambassador and the UK foreign secretary has deplored the act.
The advocacy group, The Assistance Association for Political Prisoners (AAPP)  in its latest report said: "As of 7 April, (598) people are now confirmed killed by this junta coup. The Assistance Association for Political Prisoners (AAPP) compiled and documented (17) fallen heroes today. (12) died on 7 April. (5) were killed on previous days and documented today. This is the number verified by AAPP, the actual number of fatalities is likely much higher. We will continue adding as and when.
As of April 7, a total of (2847) people are currently under detention; of them (38) are sentenced. 481 have been issued arrest warrants.  We are verifying the recently released detainees and continuing to document them.
Peaceful protests continued across Burma today, some witnessed crackdowns, the illegitimate military is focusing its terror on rural areas. In the early morning, the junta forces excessively used live rounds, grenades, and machine guns trying to create a conflict zone in Tahan Ward, Kalay Township, Sagaing Region. At least 8 civilians were killed and 20 others injured, including one civilian who lost his hand. Over 10 civilians were violently arrested. During the crackdown, junta forces opened fire into houses and searched and raided community clinics. Moreover, in Taze Township, Sagaing Region, a civilian was killed and more than 20 people injured, three of them are in critical condition. A villager from Paline village was reportedly dead this evening in Ngar Hsuu Kone village strike in ShweBo Township, Sagaing Region. In Kyaukyisu Ward, Bago City, 2 men were killed and at least 3 civilians injured in an unprovoked shooting by junta troops.
Some people were also killed and others injured when the military and so-called police opened fire last night. In the Nyaung Shwe Township, Shan State, one youth was shot dead in the head. In Myingyan Township, Mandalay Region, it is reported that some civilians were injured in unprovoked shootings by the junta."
Speak out for him Renowned model and actor Paing Takhon was arrested at 5:00am local time in North Dagon. He is in bad health condition as evident by his latest social media.The recent warrants and arrests of popular people is a trend of Junta.
#WhatsHappeningInMyanmar
#Apr8Coup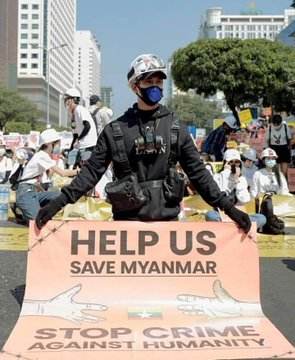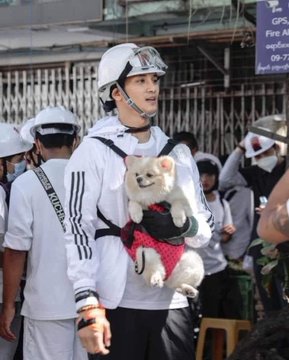 Myanmar: Shoe strike/Myanmar: Shoe strike /Myanmar: Shoe strike /Myanmar: Shoe strike
END
Please click the link below & support our initiative newsabode.com
https://www.patreon.com/neerajbajpai
(NOTE: We seek your support—At a time when the news is under threat, we have opted for a different approach with hopes of your support. The purpose of launching newsabode.com is primarily aimed at ensuring the survival of true independent Journalism. We bring news to you from across the world. To support truly independent journalism, please consider making a contribution to newsabode.com or taking a subscription)
We provide a link to another option to back up the initiative —https://mail.google.com/mail/u/