Uncategorized
Trending
Jailed Kremlin critic Alexei Navalny goes on Fast
Jailed Kremlin critic Alexei Navalny goes on Fast
Jailed Kremlin critic Alexei Navalny announced that he has gone on hunger strike in protest of conditions that he says are causing his health to deteriorate, many tweets on the social media said,triggerig comments on the sudden development.
Alexei Anatolievich Navalny,is a Russian opposition leader, lawyer, and anti-corruption activist. He came to international prominence by organizing anti-government demonstrations and running for office to advocate reforms.
Maria Pevchikh@pevchikh:Навальный объявил голодовку. Много раз, когда голодали другие, Алексей говорил, что не может себе представить, что сам на такое пойдёт. Называл это радикальным политическим жестом, который можно совершать, только когда готов идти до конца. Такой момент для него очевидно настал.
Translated from Russian by
Navalny went on a hunger strike. Many times, when others were starving, Alexei said that he could not imagine that he would do this himself. He called it a radical political gesture that can be made only when he is ready to go all the way. That moment had obviously come for him./
8:52 PM · Mar 31, 2021
Twitter for iPhone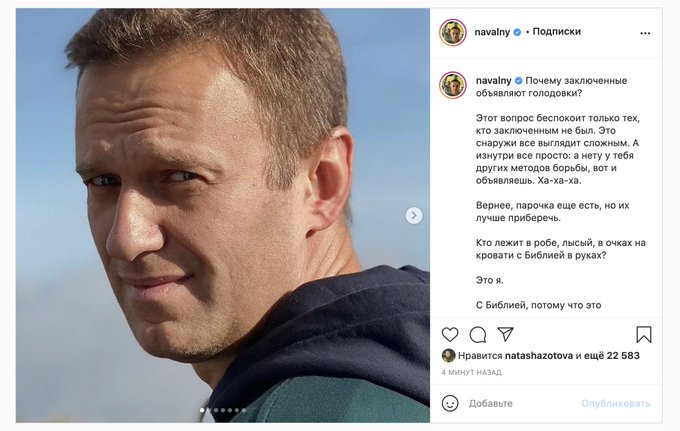 END
Please click the link below & support our initiative newsabode.com
https://www.patreon.com/neerajbajpai
(NOTE: We seek your support—At a time when the news is under threat, we have opted for a different approach with hopes of your support. The purpose of launching newsabode.com is primarily aimed at ensuring the survival of true independent Journalism. We bring news to you from across the world. To support truly independent journalism, please consider making a contribution to newsabode.com or taking a subscription)
We provide a link to another option to back up the initiative —https://mail.google.com/mail/u/