National
Politics
Tech News
Trending
IT Minister rubbishes junks spyware Pegasus phone data reports at Floor of the Lok Sabha
IT Minister Ashwini Vaishnaw's Statement in Parliament on "Alleged use of spyware Pegasus to compromise phone data of some persons as reported in Media on 18th July 2021": By Neeraj Bajpai
IT Minister rubbishes spyware Pegasus phone data reports at Floor of the Lok Sabha
Amid growing controversy over spyware Pegasus, Minister of Electronics & Information Technology Ashwini Vaishnav made a statement on  "Alleged use of spyware Pegasus to compromise phone data of some persons on the opening day of the Monsoon Session of the Lok Sabha today and said." it appeared to be an attempt to malign the Indian democracy and its well-established institutions".
He observed that the press reports have appeared a day before the Monsoon session of Parliament and This cannot be a coincidence.
He was making a detailed statement on the reported use of spyware Pegasus to compromise the phone data of some persons. 'When we look at this issue through the prism of logic, it clearly emerges that there is no substance behind this sensationalism", He said.
He said, "A highly sensational story was published by a web portal yesterday night. Many over-the-top allegations have been made around this story."
"In the past, similar claims were made regarding the use of Pegasus on WhatsApp. Those reports had no factual basis and were categorically denied by all parties, including in the Supreme Court. The press reports of 18th July 2021 also appear to be an attempt to malign the Indian democracy and its well-established institutions.
He said, "We cannot fault those who haven't read the news story in detail. And I request all Members of the House to examine the issues on facts and logic.
The basis of this report is that there is a consortium that has got access to a leaked database of 50,000 phone numbers. The allegation is that individuals linked to these phone numbers were being spied upon. However, the report says that:
The presence of a phone number in the data does not reveal whether a device was infected with Pegasus or subject to an attempted hack.
Without subjecting a phone to this technical analysis, it is not possible to conclusively state whether it witnessed an attack attempt or was successfully compromised.
Therefore, the report itself clarifies that the presence of a number does not amount to snooping.
he said, let us examine what NSO, the company which owns the technology has said. It said:
NSO Group believes that claims that you have been provided with, are based on a misleading interpretation of leaked data from basic information, such as HLR Lookup services, which have no bearing on the list of the customers' targets of Pegasus or any other NSO products.
Such services are openly available to anyone, anywhere, and anytime, and are commonly used by governmental agencies as well as by private companies worldwide. It is also beyond dispute that the data has nothing to do with surveillance or with NSO, so there can be no factual basis to suggest that a user of the data somehow equates to surveillance.
NSO has also said that the list of countries shown using Pegasus is incorrect and many countries mentioned are not even our clients. It also said that most of its clients are from western countries.
It is evident that NSO has also clearly rubbished the claims in the report.
Let us look at India's established protocol when it comes to surveillance. I'm sure my colleagues in the opposition who have been in Government for years would be well aware of these protocols. Since they have governed the country, they would also be aware that any form of illegal surveillance is not possible with the checks and balances in our laws and our robust institutions.
"In India, there is a well-established procedure through which lawful interception of electronic communication is carried out for the purpose of national security, particularly on the occurrence of any public emergency or in the interest of public safety, by agencies at the Centre and States. The requests for this lawful interception of electronic communication are made as per relevant rules under the provisions of section 5(2) of the Indian Telegraph Act,1885 and section 69 of the Information technology, 2000.
Each case of interception or monitoring is approved by the competent authority. These powers are also available to the competent authority in the state governments as per IT (Procedure and Safeguards for Interception, monitoring, and Decryption of Information) Rules, 2009.
There is an established oversight mechanism in the form of a review committee headed by the Union Cabinet Secretary. In the case of state governments, such cases are reviewed by a committee headed by the Chief Secretary concerned. The law also provides an adjudication process for those adversely affected by any incident.
The procedure, therefore, ensures that any interception or monitoring of any information is done as per the due process of law. The framework and institutions have withstood the test of time.
The publisher of the report states that it cannot say if the numbers in the published list were under surveillance.
The company whose technology was allegedly used has denied these claims outrightly.
And the time-tested processes in our country are well-established to ensure that unauthorized surveillance does not occur."
Congress tweeted:

India demands a thorough investigation into the revelations by the

#PegasusProject

and nothing short of strong & stringent actions against those responsible is acceptable.

#BharatiyaJasoosParty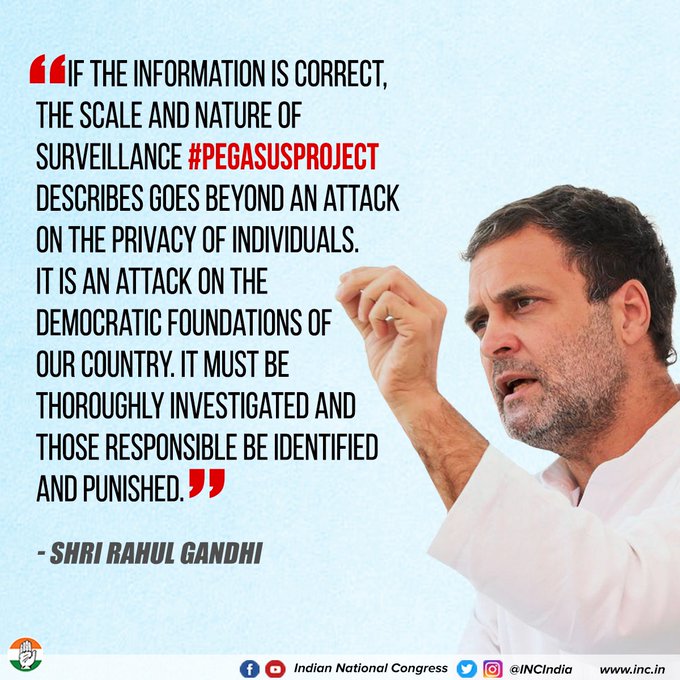 IT Minister rubbishes spyware/IT Minister rubbishes spyware /IT Minister rubbishes spyware 
The Washington Post had reported: Military-grade spyware licensed by an Israeli firm to governments for tracking terrorists and criminals was used in attempted and successful hacks of 37 smartphones belonging to journalists, human rights activists, and others, according to an investigation by The Washington Post and 16 media partners.
END
Please click the link below & support our initiative newsabode.com
https://www.patreon.com/neerajbajpai
(NOTE: We seek your support—At a time when the news is under threat, we have opted for a different approach with hopes of your support. The purpose of launching newsabode.com is primarily aimed at ensuring the survival of true independent Journalism. We bring news to you from across the world. To support truly independent journalism, please consider making a contribution to newsabode.com or taking a subscription)
We provide a link to another option to back up the initiative —https://mail.google.com/mail/u/