National
Trending
India's daily cases spike sharply records 1,45,384  biggest surge; Deharadun under night curfew
The cumulative number of COVID19 vaccine doses administered in the country has crossed 9.80 Cr today.
India's daily cases spike sharply records 1,45,384  biggest surge; Deharadun under night curfew
The cumulative number of COVID19 vaccine doses administered in the country has crossed 9.80 Cr today.
Health condition of RSS Sarsanghchalak Dr. Mohanji Bhagwat who had tested Corona positive, stable. He had normal symptoms and admitted to Kingsway hospital Nagpur.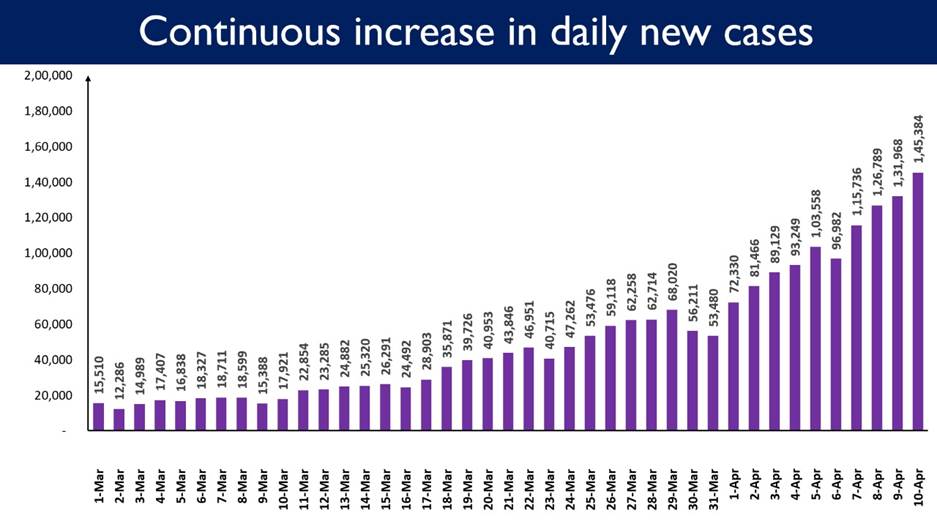 Ten states including Maharashtra, Chhattisgarh, Uttar Pradesh, Delhi, Karnataka, Tamil Nadu, Kerala, Madhya Pradesh, Gujarat, and Rajasthan have shown a rise in the COVID daily new cases. 82.82% of the new cases are reported from these 10 states.
Today, newly 55,411 patients have been tested as positive in the state. Also newly 53,005 patients have been cured today. Totally 27,48,153 patients are cured & discharged from the hospitals Total Active patients are 5,36,682 bThe patient recovery rate in the state is 82.18%, Mah. health Minister Rajesh To[e has tweeted.
Yesterday, Maharashtra had reported the highest daily new cases at 58,993. It is followed by Chhattisgarh with 11,447 while Uttar Pradesh reported 9,587 new cases.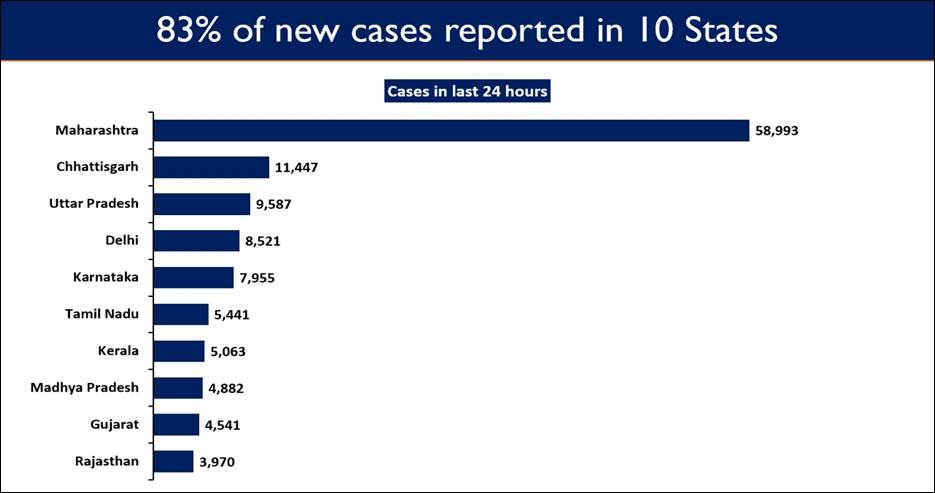 India's total Active Caseload has reached 10,46,631. It now comprises 7.93% of the country's total Positive Cases. A net incline of 67,023 cases recorded from the total active caseload in the last 24 hours.
The five states of Maharashtra, Chhattisgarh, Karnataka, Uttar Pradesh and Kerala cumulatively account for 72.23% of India's total active cases. Maharashtra alone accounts for 51.23% of the total active caseload of the country.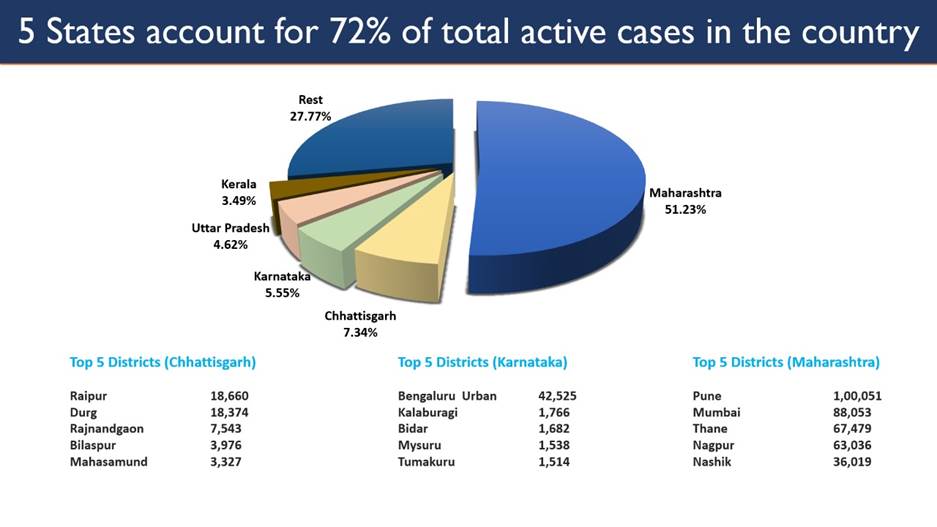 Ten districts account for 45.65% of the total active cases in the country.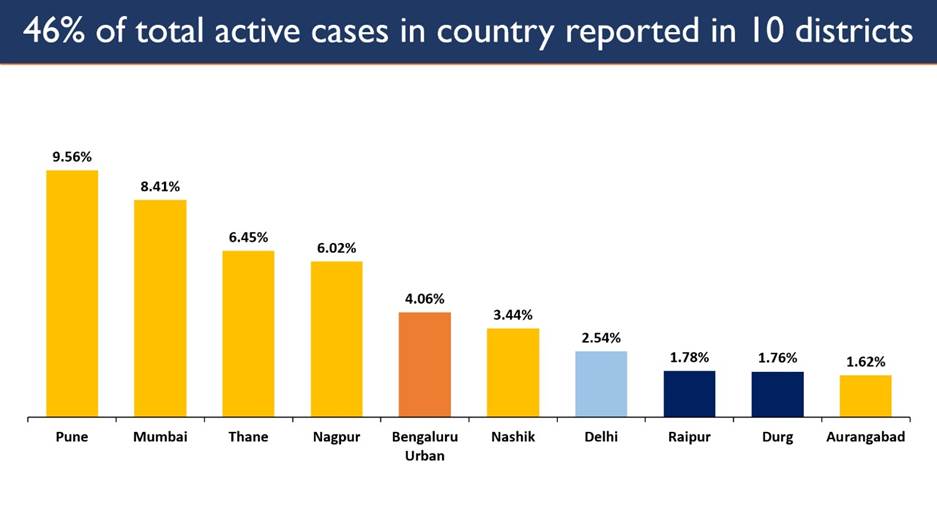 India's cumulative recoveries stand at 1,19,90,859 today. The National Recovery Rate is 90.80%.
77,567 recoveries were registered in the last 24 hours.
Daily Deaths continue to show an upward trend. 794 deaths were reported in the last 24 hours.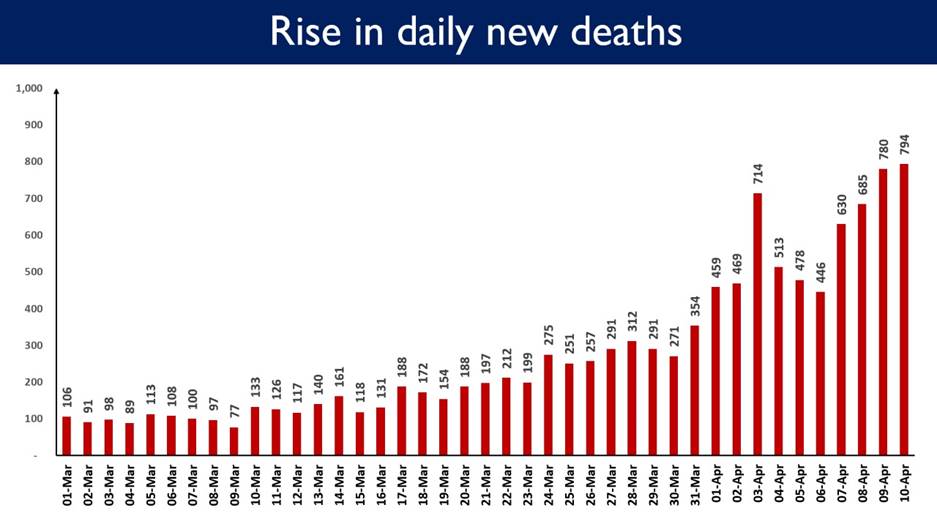 Ten States account for 86.78% of the new deaths. Maharashtra saw the maximum casualties (301). Chhattisgarh follows with 91 daily deaths.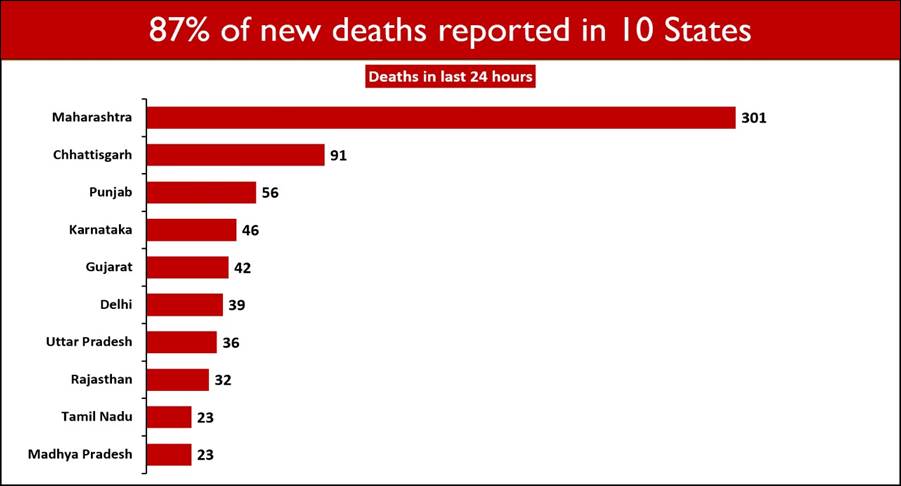 Twelve states/UTs have not reported any COVID19 deaths in the last 24 hours. These are Puducherry, Ladakh (UT), D&D & D&N, Nagaland, Tripura, Meghalaya, Sikkim, Mizoram, Manipur, Lakshadweep, A&N Islands, and Arunachal Pradesh.
Please click the link below & support our initiative newsabode.com
https://www.patreon.com/neerajbajpai
(NOTE: We seek your support—At a time when the news is under threat, we have opted for a different approach with hopes of your support. The purpose of launching newsabode.com is primarily aimed at ensuring the survival of true independent Journalism. We bring news to you from across the world. To support truly independent journalism, please consider making a contribution to newsabode.com or taking a subscription)
We provide a link to another option to back up the initiative —https://mail.google.com/mail/u/