National
Trending
India records 38,600 new cases & 474 deaths; Recovery rate tops 93.52 per cent
Maharashtra: With an aim to prevent the spread of coronavirus infection, Mumbai's civic body has said that it will not allow Chhath Puja at beaches and river banks
India today reported less than 50,000 new daily cases for the eleventh continuous day.44,739 COVID-19 patients recovered in the last 24 hours against just 38,617 newly detected cases.
This translates to a net reduction of 6,122 in the Active Caseload which now stands at 4,46,805. The active caseload as of date comprises merely 5.01% of all COVID19 cases.
The Recovery Rate has improved to 93.52% today. The total recovered cases stand at 83,35,109.74.98% of the new recovered cases are contributed by ten States/UTs.
With 6,620 persons recovering from COVID, Kerala saw the most number of recoveries. Maharashtra registered 5,123 daily recoveries while Delhi reported 4,421 new recoveries. Ten States/UTs have contributed 76.15% of the new cases. Delhi reported 6,396 cases in the last 24 hours. Kerala recorded 5,792 new cases while West Bengal reported 3,654 new cases yesterday.78.9% of the 474 case fatalities that have been reported in the past 24 hours are from Ten States/UTs.20.89% of new fatalities reported are from Delhi which reported 99 deaths. Maharashtra and West Bengal follow with 68 and 52 new deaths, respectively.
Chief Minister@ArvindKejriwal  visited GTB Hospital and held a meeting with doctors and hospital administration. In GTB, 232 ICU beds will be increased in the next two days. Also, a total of 663 ICU beds will be increased in other hospitals of the Delhi Government.
Health Minister of Delhi Satyendar Jain
@SatyendarJain: We will increase 663 ICU beds in Del govt hospitals in the next 2 days. Center is also increasing another 750 ICU beds.
Maharashtra: With an aim to prevent the spread of coronavirus infection, Mumbai's civic body has said that it will not allow Chhath Puja at beaches and river banks. The Municipal Corporation of Greater Mumbai said the city police will have to ensure that people do not crowd at riversides on 20th evening for sunset rituals and on 21st for the sunrise ritual. It said concerned officials will permit limited public gatherings at artificial ponds so that people can offer prayers to the Sun God and necessary medical teams equipped with PPE and testing kits will be placed at various locations where artificial ponds have been set up. The recovery rate in Maharashtra stands at 92.49%, while the case fatality rate is 2.63%.
Gujarat: Recovery rate has further improved to 91.4%. The total number of cases of COVID-19 detected so far in Gujarat has crossed the 1 lakh 90 thousand mark.
Rajasthan: The number of active cases of COVID-19 has once again crossed the 19,000 mark after 26 days. Maximum cases on Wednesday were found in Jaipur district (484 new cases), followed by Jodhpur district (317 new cases) and then Alwar (247 new cases). More than 450 people are being tested positive every day in the capital Jaipur. The number of active patients is more than 6,500 here. 400 people have died due to the infection so far. A large number of new infections are being reported from Bikaner, Alwar, Ajmer and Kota. More than 40 lakh samples have been tested in the state so far.
Madhya Pradesh: Maximum cases on Wednesday were found in Bhopal district (207 new cases), followed by Indore district (178 new cases) and then Gwalior (55 cases). Total number of people tested has now become 33,54,884.
Chhattisgarh: The number of deaths due to COVID-19 has risen during the past two weeks. Coronavirus claimed more than 200 lives in the state during the last 15 days. Chief Secretary has expressed concern over the increasing number of deaths due to COVID-19 in the state and directed the authorities to pay special attention to the Rapid Covid test. He has also asked all district collectors to ensure availability of sufficient number of beds with oxygen facility in district hospitals. He further directed to conduct an intensive awareness campaign to motivate the people to adopt Covid Appropriate behavior and to get Covid test done within 24 hours after having any symptoms.
Goa: Recovery rate in the state has reached up to 95.56%. Phase III clinical trials of Bharat Biotech's COVID-19 vaccine candidate Covaxin are going to start at Goa's Redkar Hospital.
Assam: Assam Health Minister tweeted that from next week COVID-19  test for incoming flight passengers will be done in Guwahati Airport itself instead of Sarusajai. Air passengers travelling within Assam and those travelling between North East States will no longer require mandatory COVID-19 testing.
Nagaland: With 163 new cases, Nagaland's COVID-19 total reaches 10,188. Active cases rises to 1,134.
Kerala: The State Election Commission has asked the state government to give Covid-19 patients and those under quarantine to give an opportunity to apply for postal ballots till 3pm on the eve of polling day. The Health Department with the assistance of Collectors will make arrangements for Covid patients who are in hospitals and those in quarantine to cast their votes. Covid patients who are at their homes should come directly to the booth and cast their votes at the end. Meanwhile, former Chief Minister and senior Congress leader A.K. Antony was diagnosed with Covid-19 today. 5,792 new Covid-19 cases were confirmed in Kerala yesterday while 6,620 patients recovered. The test positivity rate is 10.31% and Covid related death toll in the State stands at 1,915.
Tamil Nadu: Convalescent plasma therapy for Covid-19 patients, which was earlier done as a trial along with the ICMR, has now become part of clinical treatment in Tamil Nadu. Pulmonologists warn that Covid-19 patients who have COPD (chronic obstructive pulmonary disease) are at a higher risk of hospitalization. The mortality rate is also higher in COPD patients.  A recent serosurvey conducted by health officials reveals that 20.5 percent of Salem's population was exposed to Covid-19 and has also developed antibodies to the virus. Coimbatore health officials said that they would be able to ascertain the extent of virus spread during Deepavali in the district only after an incubation period of 14 days.
Karnataka:  Karnataka govt revises order reserving 50% beds in private hospitals for Covid-19 patients; this comes after a reduction in the number of patients seeking Covid-19 treatment in private and government hospitals. By December 12, Karnataka is likely to have 9.25 lakh Covid cases, according to projections by the Public Health Foundation of India and Jeevan Raksha. Bengaluru's Covid-19 case fatality rate (1.1%) is the lowest among all major cities in India. The number of active Covid cases in the Dharwad district is at a four-month low.
Andhra Pradesh: Local body polls to be held in February, says Andhra Election Commissioner. Situation not conducive for panchayat elections due to pandemic, says Andhra government. Class 9 students of a government residential school Srikakulam have created light-weight digital ID cards with sensors to ensure physical distancing is practiced among the students at the school in view of the Covid-19 outbreak.
Telangana:   States Covid-19 tally rose to 2,58,828 with 952 cases reported on Tuesday. With 1,602 patients being discharged on the day, the active cases fell to 13,732 and total recoveries rose to 2,43,686. E-clinic franchise set to open centers in rural Telangana; during this pandemic when visiting doctors physically is not feasible, these clinics facilitate doctor consultations, diagnostic tests, and more.
US SITUATION :

The COVID Tracking Project
@COVID19Tracking
Our daily update is published. States reported 1.5M tests, 155K cases, and 1,565 deaths. 77k people are currently hospitalized with COVID-19 in the US.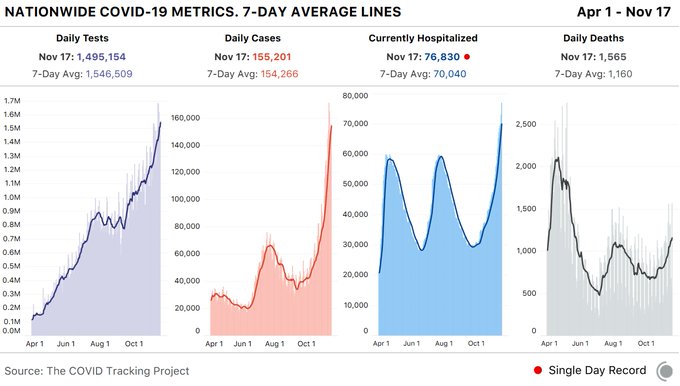 END
Please click the link below & support our initiatiCOVID-19 newsabode.com
https://www.patreon.com/neerajbajpai
(NOTE: We seek your support—At a time when the news is under threat, we have opted for a different approach with hopes of your support. The purpose of launching newsabode.com is primarily aimed at ensuring the survival of true and unbiased journalism, based on facts and figures with total independence)