Politics
Trending
Former AIADMK Chief VK Sasikala announces retirement from politics
Former AIADMK Chief VK Sasikala announces retirement from politics
In a surprise move ahead of the state assembly polls in Tamil Nadu, a close aide of former Tamil Nadu Chief Minister J Jayalalithaa and ousted AIADMK  Chief  VK Sasikala announced that she is quitting politics. The move has set in motion a wide range of speculations including– the ruling AIADMK  will be benefited at the hustings due to the non-split of votes of the party.
In her statement, She has urged the AIADMK cadre to "stay united" and defeat the DMK in the upcoming Assembly polls scheduled for April 6.
Sasikala, who served four years at a Bengaluru prison following her conviction in a disproportionate assets case, was released recently.
Soon after her letter, political speculations are rife and a tweet said: "Chinnamma did not succumb to the BJP's threat to join the BJP and at the same time reluctantly left politics to act against her mother's party and declared her true love for the revolutionary leader to the world !!!
A two-page letter, signed by her, and released first on Jaya TV, appealed to Amma's followers to work hard to ensure her rule. "As Amma used to say, defeating the evil force DMK should be the main aim of all obedient cadre of Amma's party," Sasikala wrote, thanking all who showered her with love.
Sasikala's surprise and the sudden decision may fetch dividends to AIADMK as there will be no split vote banks of the party, political observers feel.
The move has inflicted a jolt to her nephew TTV Dhinakaran, who was ousted from AIADMK along with her in 2017. After defeating the AIADMK and DMK candidates in the high-decibel RK Nagar — Jayalalithaa's constituency — by-poll in December 2017, he launched his own party, Amma Makkal Munnetra Kazhagam (AMMK), in March 2018. The party garnered a vote share of more than 4 percent in the Lok Sabha polls in 2019.
Her statement: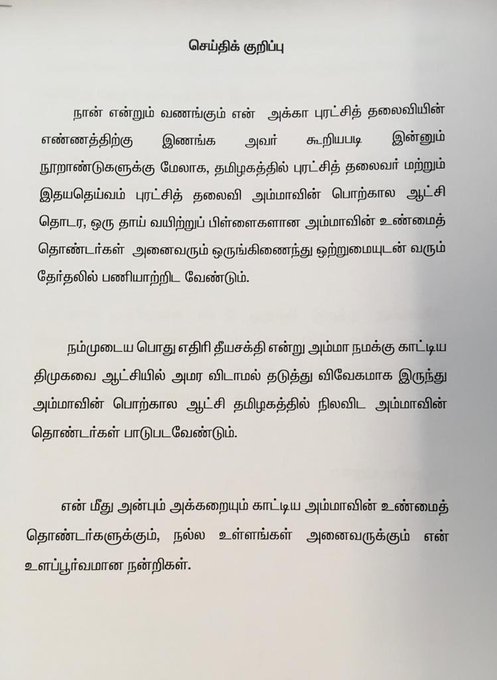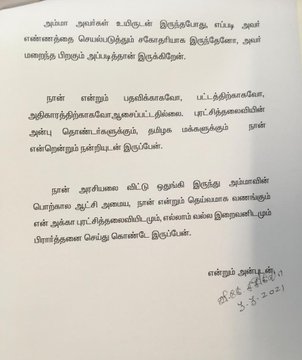 Schedule for General Election to the Legislative Assembly of Tamil Nadu: 
Poll Events

Single Phase (All 234 ACs)

Date of Issue of Notification

12.03.2021

 

(Friday)

Last date of making nomination

19.03.2021

 

(Friday)

Date of Scrutiny

20.03.2021

 

(Saturday)

Last date of withdrawal

22.03.2021

 

(Monday)

Date of Poll

06.04.2021

 

(Tuesday)

Date of Counting

02.05.2021

 

(Sunday)

Date of completion

04.05.2021

 

(Tuesday)
https://www.patreon.com/neerajbajpai
(NOTE: We seek your support—At a time when the news is under threat, we have opted for a different approach with hopes of your support. The purpose of launching newsabode.com is primarily aimed at ensuring the survival of true independent Journalism. We bring news to you from across the world. To support truly independent journalism, please consider making a contribution to newsabode.com or taking a subscription)
We provide a link to another option to back up the initiative —https://mail.google.com/mail/u/