Environment
Trending
Farmers' protests escalate; Police fired tear gas & water cannons to disperse crowd on Delhi-Harayana Borders
High tension drama on a bridge over Ghaggar river
Farmers' protests escalate; Police fired tear gas & water cannons to disperse the crowd on Delhi-Harayana Borders
Tension over the farmers' stir against the newly enacted farm laws by the Union government escalated today with agitating farmers pursuing their " Delhi Chalo" program marched towards the national capital and entered forcibly into the Haryana state and the state government resorting to emergency steps like the bursting of tear gas shells & water cannons.
Tension is palpable and traffic congestions remained the order of the day.
Haryana Police on Thursday used water cannons and tear gas in order to stop a group of farmers from Punjab from proceeding towards Delhi. The farmers allegedly tried to jump police barricades to enter Haryana.
Haryana Police officials at the Shambhu inter-state border with Punjab used loudspeakers, asking farmers who had assembled on the Punjab side to disperse when some of them tried to cross and remove the barricades.
Various media outlets reporting from the spot aired the situation got tense at the Shambu inter-state border on the national highway as protesting farmers hurled police barricades off the bridge into the Ghaggar river.
In the wake of massive traffic disruptions, Air India has tweeted:
#FlyAI
: In view of traffic disruption in the NCR region due to the closure of Delhi borders, we are allowing no-show waiver & one free reschedule to passengers who couldn't report for their flights. The waiver will be valid for flights scheduled out of Delhi airport only for  26th Nov '20.
Reports say police fired water cannons and tear gas shells to disperse the swirling crowd of farmers. Multiple levels of barricading at Teokar border in Pehowa, Kurukshetra to stop agitating farmers from entering Haryana. Apart from trolleys filled with mud, police have placed tippers filled with gravel, road rollers & huge cement boulders to seal entry points.
The security was also heightened at Delhi's borders with Gurugram and Faridabad to stop the farmers from entering into the national capital. Drone cameras have also been deployed at Delhi borders for security surveillance.
Visuals going viral on social media showed that sand-laden heavy vehicles are being parked to stop their trucks and trolleys.
Responding to the Haryana Chief Minister that Punjab CM is inciting them, Mr. Amrendra Singh has tweeted: Shocked at your response@mlkhattar Ji. It's the farmers who've to be convinced on MSP, not me. You should've tried to talk to them before their #DilliChalo. And if you think I'm inciting farmers then why are Haryana farmers also marching to Delhi?
"As for endangering lives during #COVID19, have you forgotten that it was@BJP4India led central govt that pushed through those #FarmLaws amid the pandemic, uncaring about the impact they'd have on our farmers? Why didn't you speak out then@mlkhattar? For nearly 2 months farmers have been protesting peacefully in Punjab without any problem. Why is Haryana govt provoking them by resorting to force? Don't the farmers have the right to pass peacefully through a public highway?", Punjab CM  has tweeted.
Delhi Metro Rail Corporation I कृपया मास्क पहनें
@OfficialDMRC has informed: Update for tomorrow (27.11.2020) As advised by Delhi Police, Metro services will be available only from Delhi towards the NCR sections. However, services from the NCR stations towards Delhi will not be Farmers' protests esclateavailable due to security reasons till further notice.
Farmers' protests esclate/Farmers' protests esclate/Farmers' protests esclate
"I want to appeal to our farmer brothers to not agitate. We're ready to talk about issues and resolve differences. I'm sure that our dialogue will have a positive result: Narendra Singh Tomar, Union Agriculture Minister has said.
Sukhbir Singh Badal
@officeofssbadal: I also want to tell PM
Narendra Modi
not to stand on ego & false pride. Any decision which is not acceptable to farmers and has hurt their sentiments should be revoked. We should do our utmost to ensure the future of our 'annadaata' is secure. 5/5
#FarmersProtest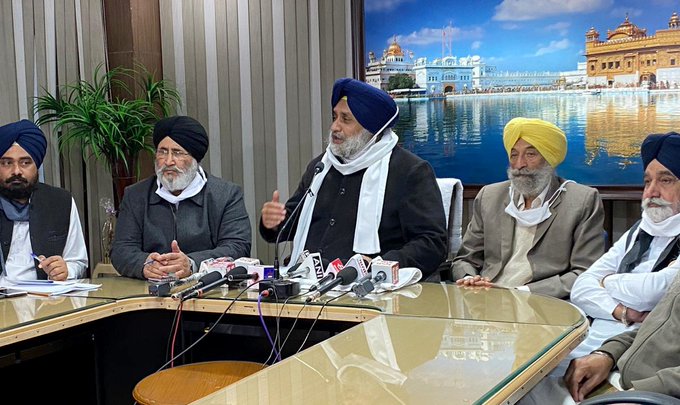 "SAD is fully & actively backing the farmers' Nov26 Delhi march. Every worker is a part of it in every way. After our Chandigarh march, we've avoided separate prog only to be on the same page with farmer orgs.SAD workers will participate & lend help, solidarity & support to the cause".
Delhi traffic police have tweeted "Traffic movement is closed at Singhu Border(both carriageways) due to demonstration.
Delhi Traffic Police
@dtptraffic: As per the report from TI/Burari, Singhu Border is closed for traffic movement, and traffic is diverted from Mukarba Chowk. So, traffic is heavy at Karnal Bypass. Area traffic staff is present there and regulating the traffic.
Farmers' protests escalate/Farmers' protests escalate
END
Please click the link below & support our initiative newsabode.com
https://www.patreon.com/neerajbajpai
(NOTE: We seek your support—At a time when the news is under threat, we have opted for a different approach with hopes of your support. The purpose of launching newsabode.com is primarily aimed at ensuring the survival of true and unbiased journalism, based on facts and figures with total independence)