National
Trending
Farmers' Protest enters 100th day, Protestors to block KMP expressway
Marking 100 Days of Farmers'protest on the borders of the National Capital, Agitating farmers today planed to wave black flags and block KMP expressway against non-fulfillment of their demand for the complete rollback of the recently enacted farm bills which they describe as " draconian" and anti farmers notwithstanding the central government repeated assertions that farm reforms were in favor of the farming community.
They today went ahead with their program for five hours blockade on the KMP( Kundli-Manesar-Palwal)
expressway.     
The Western Peripheral Expressway or Kundli–Manesar–Palwal (KMP) Expressway, is an operational 6-lane (3 lanes in each direction), 135.6 km (84.3 mi)-long Expressway in the Haryana state of India.
The farmers Ekta Morcha had tweeted yesterday:100th Day of Farmers Protest will be marked by flying black flags as a mark of support to the ongoing movement against the Indian govt. A 5-hour blockade on KMP Expressway will be observed on 6th March from 11 AM to 4 PM.
Reports say they have started the blockade on the KMP and those putting on Dharna at The Sindhu border have blocked traffic on the KMP. Details are awaited. 
Today, The Morcha tweeted:

Kisan Ekta Morcha

@Kisanektamorcha:

Over 100 days & still Modi govt. has been a FAILURE in understanding the needs of the farmers from the 3 Farm Bills. To intensify the ongoing protest, the farmers have urged people to boycott BJP politically.

#FarmersCallBJPboycott
 To carry forward their stir to the poll-bound states, Kisans this week held a public meeting in Kolkata and said their movement has turned into the public.
"#FarmersProtest landed in Kolkata today. Huge rally. Wait for the storm. This is Jan Aandolan."
Farmers' spokesperson and BKU leader, on the occasion, tweeted: Rakesh Tikait

@RakeshTikaitBKU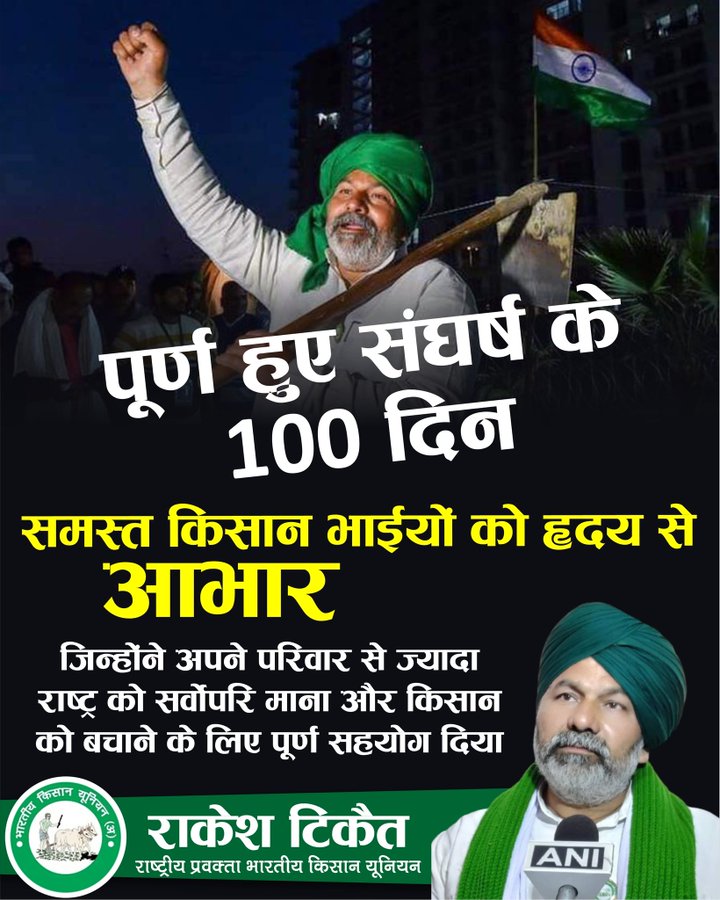 END
https://www.patreon.com/neerajbajpai
(NOTE: We seek your support—At a time when the news is under threat, we have opted for a different approach with hopes of your support. The purpose of launching newsabode.com is primarily aimed at ensuring the survival of true independent Journalism. We bring news to you from across the world. To support truly independent journalism, please consider making a contribution to newsabode.com or taking a subscription)
We provide a link to another option to back up the initiative —https://mail.google.com/mail/u/