National
Delhi records 7,897 cases & 39 deaths in 24 hrs ;CM visits hospitals to oversee arrangements
Delhi records 7,897 cases & 39 deaths in 24 hrs; CM visits the hospitals to oversee arrangements
Delhi Chief Minister Arvind Kejriwal today held meetings with officials and inspected facilities at the LNJP Hospital in the wake of an increasing number of coronavirus cases. He assured efforts would be taken to tackle the care of citizens even as the capital recorded 7897 cases and 39 deaths in the last 24 hrs.
During the visit to LNJP Hospital, the Chief Minister also talked to a patient admitted in the ward through a video call and got to know about his condition. With the help of video call facility in this Delhi government hospital, patients are also able to talk directly to their family members.
Night curfew has already been imposed and all schools and colleges have been closed.
Arvind Kejriwal
@ArvindKejriwal:कुछ दिनों से कोरोना के केस बहुत तेज़ी से बढ़ रहे हैं, वैक्सिनेशन के साथ हमें संक्रमण को फैलने से रोकना है और हॉस्पिटल मैनेजमेंट को भी दुरुस्त रखना है। आज LNJP अस्पताल की तैयारियों का जायज़ा लिया। अस्पतालों में सुविधाएं बढ़ा रहे हैं, दिल्ली के लोगों को कोई तकलीफ़ नहीं होने देंगे।
Corona cases have been increasing very rapidly for few days, with vaccination we have to stop the spread of infection and also to keep the hospital management in good shape. Today reviewed the preparations of LNJP Hospital. With increasing facilities in hospitals, the people of Delhi will not have any problem.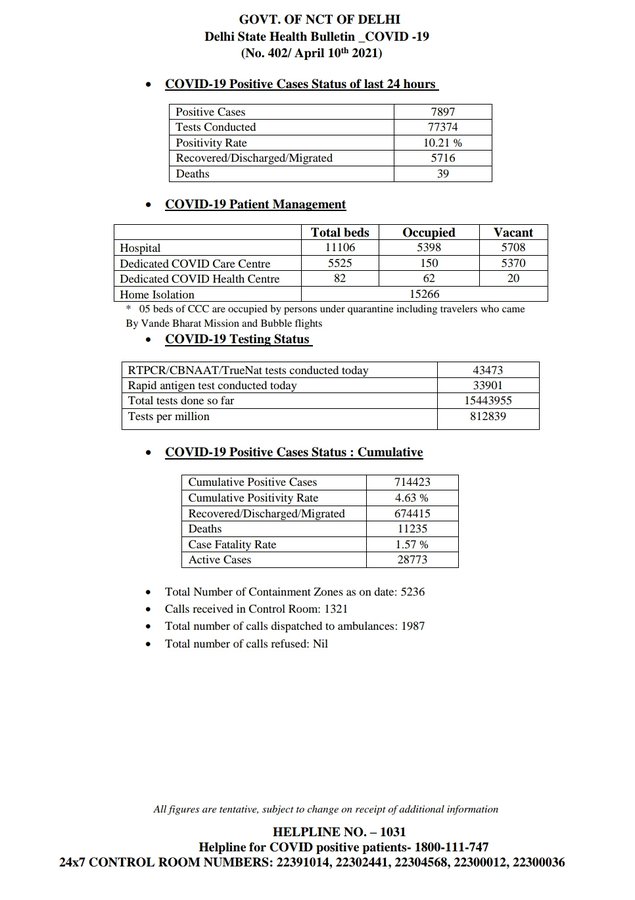 Please click the link below & support our initiative newsabode.com
https://www.patreon.com/neerajbajpai
(NOTE: We seek your support—At a time when the news is under threat, we have opted for a different approach with hopes of your support. The purpose of launching newsabode.com is primarily aimed at ensuring the survival of true independent Journalism. We bring news to you from across the world. To support truly independent journalism, please consider making a contribution to newsabode.com or taking a subscription)
We provide a link to another option to back up the initiative —https://mail.google.com/mail/u/