International
COVID-19 One Year On, The Pandemic Still Rages; US records over 4,000 deaths in a day
By Neeraj Bajpai & Felix Richter- Statista -Inforgraphics  
COVID-19 One Year On, The Pandemic Still Rages; US records over 4,000 deaths in a day
COVID-19 One Year On, The pandemic is still on the killing spree. The United States, which is embroiled in the coronavirus woes, political turmoil post capitol building, impeachment proceedings against President Donald Trump, has reported a record number of 4,056 deaths in the last 24 hrs, according to The COVOD tracking project which has said 131,326 are currently in the hospital there. On Jan 12, till the last reports came in, there were 213,885 fresh cases.
The virus has so far infected over 91.57 million and killed 196,201,000 globally. India is starting a nationwide inoculation drive from Jan 16 with the aim o vaccinate 300 million in the next few months.
The US has far recorded 22.83 million cases and  380,670 deaths while India recorded 15,968  cases and 202 deaths in the last 24 hrs to surge past the caseload mark of 1,04,95.147 and the death toll of 1,51,529 so far.
The COVID Tracking Project/
@COVID19Tracking
Our daily update is published. States reported 1.9M tests, 214k cases, 131,326 people currently hospitalized with COVID-19, and 4,056 deaths.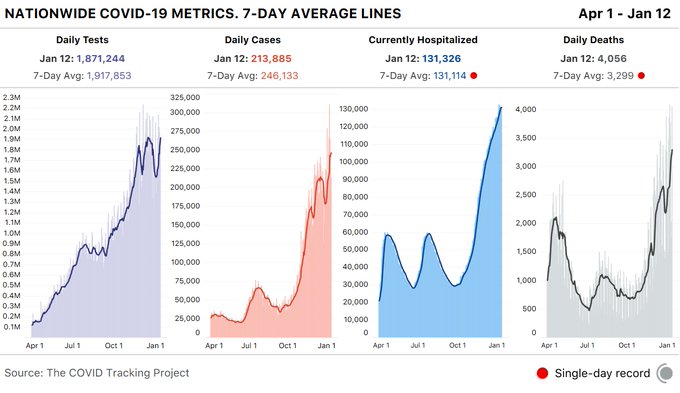 COVID-19 PANDEMIC
One Year On, The Pandemic Still Rages
One year ago, on January 13, 2020, Thailand became the first country to officially confirm cases of the novel coronavirus outside of China. And while most experts now agree that the virus must have spread outside of China before that date, it still marks a key milestone on the way to what many will remember as one of the most disruptive events of their lifetimes.
And while the arrival of several vaccines and the beginning of mass inoculation campaigns across the world are a welcome light at the end of the tunnel, the virus remains an imminent threat for the time being. According to the World Health Organization, the seven-day average of daily new cases hit a record high of 715,557 on Monday after new cases had surpassed 800,000 in two of the past four days.
As of January 12, 2021, the WHO reports more than 89 million cases of COVID-19 globally, including 1.94 million deaths. With more than 22 million cases and 376,000 deaths, the U.S. has been the worst affected country by far, followed by India and Brazil with 10.5 and 8.1 million confirmed cases, respectively.
DESCRIPTION
This chart shows the seven-day moving average of newly confirmed COVID-19 cases worldwide, by WHO region.
COVID-19 One Year On/COVID-19 One Year On/COVID-19 One Year On/COVID-19 One Year On
END