International
Trending
Coronavirus winter: US tops 12 million cases & 255,000 deaths ahead of Thanksgiving ceremony
Pandemic India records 45,000 cases & 501 deaths in last 24 hrs: By Neeraj Bajpai
Coronavirus winter: US tops 12 million cases & 255,000 deaths ahead of Thanksgiving ceremony
Coronavirus winter phase has assumed a challenging proportions across many countries with the worst hit United States surpassing 12 million cases ahead of Thanksgiving ceremony and India reporting more than 45,000 cases and 501 deaths in the last 24 hours,prompting union  gioverenmenmt to send experts teams in the worst affected states to control situation.
The virus has infected over 58.14 million  and killed 1,380,400 people globally with hike in daily cases in Russia and Japan, and many european countries have clamed fresh restrictions in the wake of winter surge. It has pushed a long lockdown in Toronto too.
For Thanksgiving occasion,scores of passengers have flooded airports in US , triggering fears of further spread of the pandemic .
The situation in Germany is bad as many hospitals have run out of  ICU beds due to sudden surge of infected people.
According to official state,cases in India rose by 45,209 in the last 24 hours taking the total number of infections in the country to 90.95 lakh.The total fatalities due to the deadly disease to over 1.33 lakh.
In Delhi, additional steps are being takre to handle the situation as the  national capital reported 5,879 cases and 111 deaths in the last 24 hrs . It has a caseload of 5.2 lakh with over 8,000 deaths so far. A fine of Rs.2000 has been clamped for defying mask mandate for all .
There are over 4.4 lakh active cases in the country and over 85 lakh patients have recovered so far from the highly contagious disease. contagious disease.
In US,
Today, the U.S. Food and Drug Administration issued an 
emergency use authorization (EUA)
 for casirivimab and imdevimab to be administered together for the treatment of mild to moderate COVID-19 in adults and pediatric patients (12 years of age or older weighing at least 40 kilograms [about 88 pounds]) with positive results of direct SARS-CoV-2 viral testing and who are at high risk for progressing to severe COVID-19.
This includes those who are 65 years of age or older or who have certain chronic medical conditions.
In a clinical trial of patients with COVID-19, casirivimab and imdevimab, administered together, were shown to reduce COVID-19-related hospitalization or emergency room visits in patients at high risk for disease progression within 28 days after treatment when compared to placebo.
The safety and effectiveness of this investigational therapy for use in the treatment of COVID-19 continues to be evaluated, A FDA statement said..
Accordig CDC,More than 1 million COVID-19 cases were reported in the United States over the last 7 days.
As cases continue to increase rapidly across the United States, the safest way to celebrate Thanksgiving is to celebrate at home with the people you live with.
Gatherings with family and friends who do not live with you can increase the chances of getting or spreading COVID-19 or the flu.
In Califorinia a recent official statement said :SACRAMENTO – In light of an unprecedented, rapid rise in COVID-19 cases across California, Governor Gavin Newsom and the California Department of Public Health (CDPH) today announced a limited Stay at Home Order requiring generally that non-essential work, movement and gatherings stop between 10 PM and 5 AM in counties in the purple tier.
The order will take effect at 10 PM Saturday, November 21 and remain in effect until 5 AM December 21. This is the same as the March Stay at Home Order, but applied only between 10 PM and 5 AM and only in purple tier counties that are seeing the highest rates of positive cases and hospitalizations.
"The virus is spreading at a pace we haven't seen since the start of this pandemic and the next several days and weeks will be critical to stop the surge. We are sounding the alarm," said Governor Newsom. "It is crucial that we act to decrease transmission and slow hospitalizations before the death count surges. We've done it before and
we must do it again." The statement has more details.
NHK news outlet of Japan has reported : Japan's hospitals are under strain as the number of patients with COVID-19 continues to rise.Hospital bed occupancy rates topped 30 percent in seven of the 47 prefectures in Japan.Health ministry officials say that as of Wednesday, 5,951 people were hospitalized in the country.
It was an increase of 1,434 patients or 32 percent in the seven days since November 11.

The COVID Tracking Project
@COVID19Tracking  (US reports)
Our daily update is published. States reported 2M tests (a record), 178k cases, and 1,506 new deaths. 83k people are currently hospitalized with COVID-19, also a record number.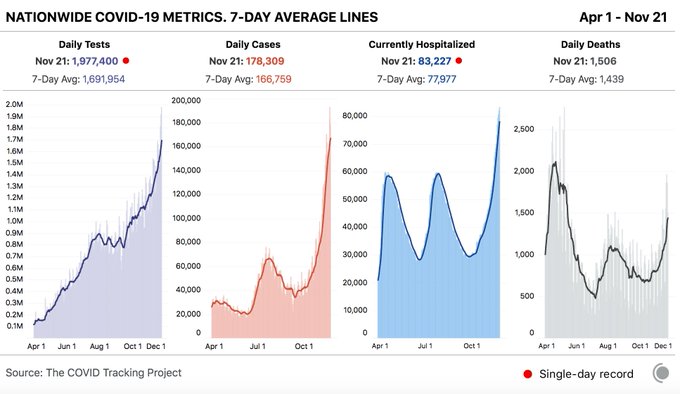 The White Helmets
@SyriaCivilDef has tweeted :
18 people have died in northern
#Syria
, during the past 24 hours, including 14 confirmed cases of
#CoronaVirus
and 4 suspected cases, bringing the total of those infected with the virus in northern Syria to 13,848 cases.
END
Please click the link below & support our initiative newsabode.com
https://www.patreon.com/neerajbajpai
(NOTE: We seek your support—At a time when the news is under threat, we have opted for a different approach with hopes of your support. The purpose of launching newsabode.com is primarily aimed at ensuring the survival of true and unbiased journalism, based on facts and figures with total independence)