International
Trending
Coronavirus rising update : US reports 1,95,000 fresh cases; World tally tops 57.70 million;Russia records 24,822 new cases
Pandemic kills over 1,374,800 globally;Toronto clamps lockdown:By Neeraj Bajpai
Coronavirus rising update: India records 46,200 cases & 564 deaths in last 24 hrs; Toronto clamps restrictions. Russia records 24,000 cases
Coronavirus rising update: Amid growing hopes for an early arrival of the anti-coronavirus vaccine, The virus has infected more than 57.70 million and killed 1,374,824 globally with a maximum of one-day cases in the worst-hit US which reported 195,542 fresh cases on Friday with uptick trends in various states. It has a caseload of 11.915 million and over 254,000 deaths.
Russia today recorded the highest number of 24,822 cases to surpass the caseload of 2,047,567  with 35,400 deaths so far.
"My son Donald is doing very well. Thank you!: US President Donald Trump has tweeted about the health of his son who has tested positive
to discuss how we'll get this virus under control, deliver much-needed relief, and build back better than before. We're getting right to work for the American people.
here's the deal: Because President Trump refuses to concede and is delaying the transition, we have to fund it ourselves and need your: VP elect has tweeted.
India has reported 46,232 cases and 564 deaths in the last 24 hours to surpass a caseload of 90,50,587 and a death toll of 1,32,726.
In the national capital, cases are surging ahead with 6,608 fresh cases and 118 deaths in the last 24 hours. It has so far reported  5.17 lakh cases and over 8,000 deaths so far.
57 Officer Trainees have tested Covid positive at the Lal Bahadur Shashtri National Academy of Administration, since 20/11/2020. A total of 428 Officer Trainees are on campus for the 95th Foundation Course which is conducted for new entrants to the Civil Services.
The Academy is taking every measure to break the chain of Covid-19 spread in consonance with the guidelines of the Ministry of Home Affairs and the District Administration, Dehradun. All Officer Trainees, who have tested positive, have been quarantined in a dedicated Covid Care Centre. Since 20.11.2020, the Academy has conducted more than162 RT-PCR tests in coordination with District Authorities.
The Academy has decided to conduct all activities, including training, online till midnight of 03.12.2020. The protocols relating to social distancing, frequent hand wash, and the wearing of the mask are being strictly followed by the Officer Trainees and staff members.
Food and other necessities are being delivered to the Officer Trainees in their hostels by staff who are equipped adequately in protective gear.
In Toronto  — In consultation with the Chief Medical Officer of Health, local medical officers of health, and other health experts, the province is moving certain public health unit regions to new levels in the Keeping Ontario Safe and Open Framework, which includes moving Toronto and Peel into Lockdown. These necessary measures are being taken to limit community transmission of COVID-19 in order to keep schools open, safeguard health system capacity, and protect the province's most vulnerable populations.
Details were provided today by Premier Doug Ford, Christine Elliott, Deputy Premier and Minister of Health, Rod Phillips, Minister of Finance, and Dr. David Williams, Chief Medical Officer of Health.
"With the numbers rising rapidly in certain regions, we have to make the tough, but necessary decisions now to protect our hospitals, long-term care, and retirement homes, and every person in this province," said Premier Ford. "We cannot afford a province-wide lockdown, so we are taking preventative action today by moving Toronto and Peel into Lockdown level restrictions and other regions into higher levels of restrictions. We need to take decisive action to stop the spread of this deadly virus."
Over the past week, some regions under the Red-Control level have continued to see worsening trends in key indicators, despite having a range of public health measures and restrictions in place since early October. Based on the latest data, the government intends to move Peel Public Health and Toronto Public Health into Lockdown effective Monday, November 23, 2020, at 12:01 a.m. This action is being taken to help stop the spread of COVID-19 while prioritizing the continued opening of schools, child care centers, and other key services to the fullest extent possible.
Coronavirus rising update/Coronavirus rising update/Coronavirus rising update

The COVID Tracking Project
@COVID19Tracking
Our daily update is published. States reported 1.9 million tests, 193k cases, and 82k people currently hospitalized with COVID-19. Reported deaths were 1,862. Test, case, and hospitalization counts broke all-time records today.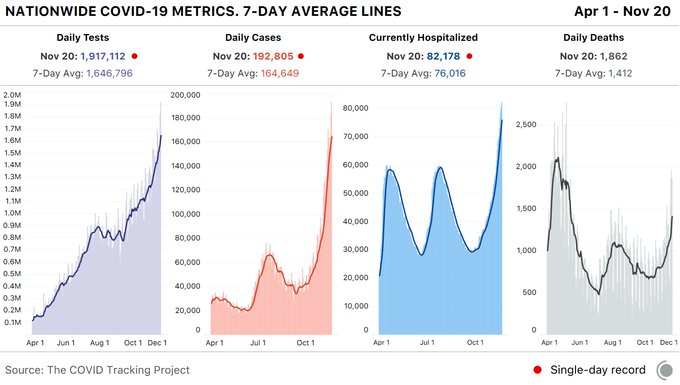 END