International
Trending
Coronavirus pandemic cases top 5 Million & Killed 346,000 globally; UK Minister resigns over Dominic Cummings row; India cases surge past 1.45 lakhs
Scotland Office minister Douglas Ross stood down; US death toll surge past 98,000

By Neeraj Bajpai 
More than 5.52  million coronavirus cases and 346,873 deaths have been recorded globally this morning, according to Johan Hopkins University. The US has imposed travel restrictions on foreign nationals who have been in Brazil in the last 14 days Cases have grown exponentially in Brazil and it now has the second-highest number of cases globally. India has 1.45 lakh cases this morning with 6,535 fresh cases during the last 24 hours.
According to Johns Hopkins University today, a total of 5,495, 061 COVID -19 positive cases are there across the world, and another 346,232 People lost lives globally.
Brazil, with 374, 298 cases, and 23,473 death has pushed Russia to a third slot in the cases tally. Peru has reported 123,979 cases and 3629 deaths. The Russian Federation has reported 362,342 coronavirus positive cases with 3807 deaths.
The World Health Organization has on Monday clamped temporary suspension of clinical trials of hydroxychloroquine as a treatment to the COVID19.
The WHO initiated Solidarity Trial's Executive Group has implemented a temporary pause of the hydroxychloroquine arm within the Solidarity Trial while the safety data is reviewed by the Data Safety Monitoring Board, says WHO DG. Dr. Tedros Adhanom Ghebreyesus.
The Executive Group of the Solidarity Trial, representing 10 of the participating countries, met on Saturday and has agreed to review a comprehensive analysis and critical appraisal of all evidence available globally.
He says as part of WHO'S a continued response to the pandemic globally, WHO continues to work aggressively on research and development. More than two months ago, WHO had initiated the Solidarity Trial, to evaluate the safety and efficacy of four drugs and drug combinations against COVID-19.
In Brazil, The mayor of Manaus — a city of 2 million people that have been stricken by Covid-19 — called on Jair Bolosonaro to resign. The Governor has posted his comments to CNN. Arthur Virgílio Neto@Arthurvneto "I told them that we will not remain silent in the face of neglect with the Amazon. The traditional peoples of the forest are dying infected with the coronavirus. he tagged his comments Quote Tweet
The mayor of Manaus — a city of 2 million people that have been stricken by Covid-19 — called on Jair Bolosonaro to resign, "shut up and stay at home." The President's "dream" is to be a dictator, "but he's too stupid," Arthur Virgilio Neto told CNN. 
In another tweet he said: "Something really exciting. As well as the discharge of a 96-year-old woman, the oldest person in the North to beat the coronavirus. The Vanessa capsule, developed by Samuel and the Transire Institute, has been the difference in our service and, for sure, we have mt to celebrate"'.
In another pandemic development, A state of emergency Tokyo, Hokkaido, Kanagawa, Chiba, and Saitama prefectures are now lifted.it has reported 16,550 cases and 820 deaths. The country's economy has suffered a lot during the onslaught of the disease.
The US has so far reported 1,662302 cases, and 98,220 deaths, according to John Hopkins University. The New York state death toll is the highest with over 29,229 deaths.
India's coronavirus cases have jumped to 1.45 lakh this morning with 6,535 fresh cases during the last 24 hours.
The number of COVID-19 linked deaths has crossed the 4,167-mark after 146 patients died in a single day.
The country reported 6,535 new patients in the last 24 hours, taking the total to nearly 1.45 lakh cases.
More than 60,000 people are cured too.
Union Health Ministry has tweeted: Hydroxychloroquine (HCQ) is a prescription medicine & is not to be used without medical advice. The advice has come close on heels of WHO's decision to suspend its clinical trials for the treatment of COVID-19. 
India this morning touched a grim milestone of being among the ten worst-affected nations in the world.
The Latin American countries have shown an increasing trend in the spread of the virus.virus. The region reported more new cases than the US or Europe for three days in a row, driven by high numbers in Brazil, Peru, and Mexico.
US President has said: I will be lowering the flags on all Federal Buildings and National Monuments to half-staff over the next three days in memory of the Americans we have lost to the CoronaVirus……On Monday, the flags will be at half-staff in honor of the men and women in our Military who have made the Ultimate Sacrifice for our Nation.
In a disturbing development, war-torn Yemen's health system has 'in effect, collapsed" under the strain of a widening COVID-19 outbreak, with epidemiologists estimating that the virus could spread faster and more widely than in many other countries, the UN warned this week.
Nepal today reported four deaths while its cases touched 772 marks. Vietnam has reported 328 cases and no death against Taiwan's reportage of 441 cases and seven deaths to date. Bhutan has reported 21 cases and no deaths.
South Africa has reported 23,615 cases and 481 deaths. Likewise, Belarus has reported 38059 cases and 208   deaths in the WHO's European region that covers 54 countries. In the region. Armenia has reported 6302  cases and 70 deaths. Mexico has reported 71105 cases and 7633 deaths.
https://www.patreon.com/creator-home
China which was the epicenter previously has reported a total of 84,095 cases and 4638 deaths. Fresh cases have started coming up in China too. Mass testing has started in Wuhan city. South Korea has reported 11,206    cases and 267 deaths.
The UK has reported a total of deaths 266,227 cases and 37,048 deaths so far Singapore has 323433 cases and 23.deaths.
In Norway, there are 8374 cases and 235 deaths. British PM Boris Johnson is standing by his chief adviser who faces fresh allegations that he breached the UK's coronavirus restrictions. some Conservative MPs have called for Dominic Cummings to be removed from his post, BBC reports.
"I'm afraid it hasn't been a success trying to save him," Conservative MP Steve Baker says the Prime Minister's aide Dominic Cummings is "not indispensable", saying "Dominic should just save us all this trouble, he should go, he should go today". He was speaking to BBC.
Douglas Ross MP
@Douglas4Moray
I haven't commented publicly on the situation with Dominic Cummings as I have waited to hear the full details. I welcome the statement to clarify matters, but there remain aspects of the explanation which I have trouble with. As a result I have resigned as a government Minister.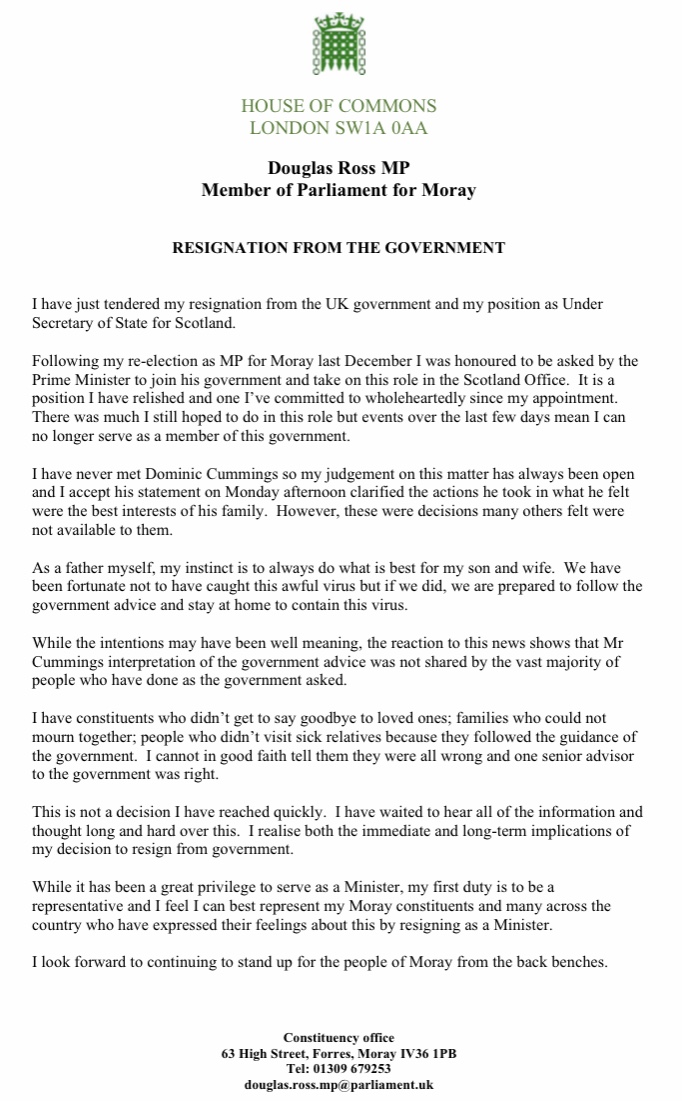 In Pakistan, the total number of 57,705 cases is reported so far with 1167 deaths. In Afghanistan, the case figures stand at 11,831 and 219 deaths.
In Saudi Arabia, 76,726 cases surfaced with 399 deaths. Iran has reported a total of 7508 deaths and 139511  cases. In UAE, The death toll is 253, and cases are 31086.
In Bangladesh, over 35 585 cases were reported and it has lost 507 lives. In Sri Lanka, 1182 cases came into light with nine deaths only.
In the WHO's European region of 54 countries, a total of 233,874 cases were reported so far with 175,184    deaths.
Spain has so far reported 235,400 cases, and 26,834 deaths, while Italy's death toll remained at 32,875, and cases mounted to 229,858. 
Spanish Prime Minister Pedro Sanchez announced during a news conference Saturday that "starting in July, we will reactivate the entry of foreign tourism under safe conditions. As of now, foreign tourists can begin to plan their vacation in our country.
In Germany, there are 180802 cases and over 8,329. France has reported 183067 cases and 28,460 deaths against Japan's 16581 cases and 830 deaths.
Sweden has reported more than 4029 deaths and 33843 Cases. Canada has reported 87,122  cases and 6,655  deaths.
WHO has warned about 1, 90,000 people may die in the African region if adequate steps were not taken for the containment.
A report from Brazzaville said Eighty-three thousand to 190 000 people in Africa could die of COVID-19 and 29 million to 44 million could get infected in the first year of the pandemic if containment measures fail, a new study by the World Health Organization (WHO) Regional Office for Africa finds. The research, which is based on prediction modeling, looks at 47 countries in the WHO African Region with a total population of one billion.
US President has hoped this would be the week he emerged into a nation recovering from the pandemic. Instead, the pandemic came to him. One of his valets at the oval office has tested positive.
Two days later, Vice President Mike Pence's press secretary also tested positive, setting off another round of tests, delaying the vice president's trip to Iowa.
Picture:#AAI's@aaiclcairporthandled the domestic operation of #airindiaexpress IX 025 from BOM to CCJ, today. All precautionary measures were taken for ensuring social distancing & safe handling of pax with the cooperation of all airport agencies & state health department.#IndiaFlyBack
Please click the link below & support our initiative
https://www.patreon.com/creator-home
(NOTE: We seek your support—At a time when the news is under threat, we have opted for a different approach with hopes of your support. The purpose of launching newsabode.com is primarily aimed at ensuring the survival of true and unbiased journalism, based on facts and figures with total independence. We mainly depend on support from readers and concerned citizens to sustain our digital news platform).