Politics
Trending
Cooch Behar Firing ; 4th phase polling underway in WB; Four shot dead in violence
West Bengal's 4th phase polling gets underway; Four shot dead
The 4th phase polling for the West Bengal state assembly elections got underway this morning on a moderate note.
In a sudden eruption of violence, At least 4 persons have died in firing by central forces when they came under attack in Sitalkuchi, Coochbehar. A young 18-yr-old has died too. TMC claims 5 of its workers have died. initial reports say TMC and BJP workers clashed and it followed the violence and firing took place.
Details are awaited.
In all, 373 candidates including 50 women will be vying for the 44 Assembly seats spread over five districts during the Fourth Phase. The state is witnessing eight-phase elections. Over 1.15 crore voters including 56.94 lakh women and 293 Third Gender persons will decide the fate of these candidates. More than 12,310 Polling Stations have been set up for this purpose.
Bharatiya Janata Party and ruling AITC are contesting for all the 44 seats while Congress, Left parties and their alliance partner Indian Secular Front are fighting under the banner of Sanyukta Morcha. CPI (M) has fielded 22 candidates, BSP has 13, Congress – nine, AIFB – six, ISF – four, RSP- two, and CPI- one.
For the Fifth Phase of State Assembly Elections in West Bengal, the high-pitch electioneering campaign is gaining momentum. The campaigning is also on for the simultaneous By-Elections of two Lok Sabha seats including Tirupati in Andhra Pradesh and Belgaum in Karnataka along with 14 Assembly Constituencies in eleven states.

Partha Chatterjee
@itspcofficial Today, one of the most respected leaders from Rajbangshi community & TMC candidate from Mathabhanga, Girindranath Burman was mercilessly attacked by
goons during his campaign. We highly condemn this violent act & urge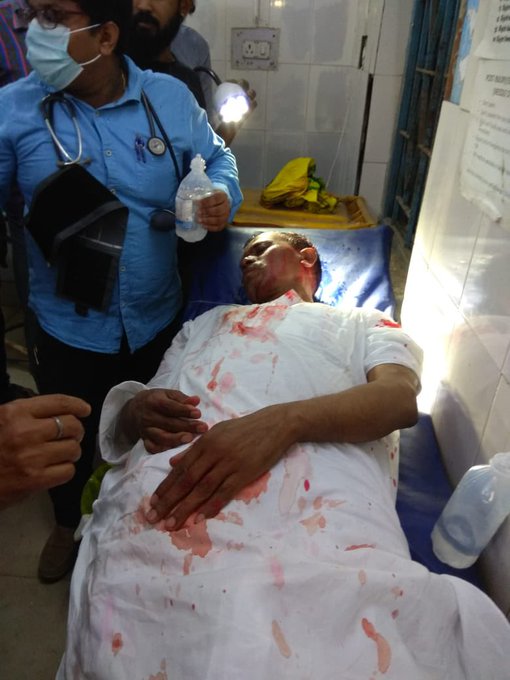 END
Please click the link below & support our initiative newsabode.com
https://www.patreon.com/neerajbajpai
(NOTE: We seek your support—At a time when the news is under threat, we have opted for a different approach with hopes of your support. The purpose of launching newsabode.com is primarily aimed at ensuring the survival of true independent Journalism. We bring news to you from across the world. To support truly independent journalism, please consider making a contribution to newsabode.com or taking a subscription)
We provide a link to another option to back up the initiative —https://mail.google.com/mail/u/